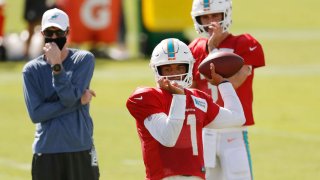 Wednesday brought day three of camp in pads for the Miami Dolphins and NBC 6 sports anchor Ruthie Polinsky has the latest on what took place in Davie - including some improvement from the most important position on the offense this coming season.
PRACTICE NOTES
Miami's quarterbacks look good sometimes, and other times not so much. Ryan Fitzpatrick had a pass tipped by defensive tackle Christian Wilkins that should have been intercepted.
We continued to be impressed by Tua Tagovailoa's athleticism and mobility in his first training camp.
Wide receiver Preston Williams was back and had a nice reception from Fitzpatrick in coverage.
Rookie cornerback Noah Igbonoghene has impressed and shows flashes of possibly making the starting lineup.
The Dolphins worked on situational football Wednesday.
Head coach Brian Flores ended practice early and made players laugh in a huddle - he appeared to be in a good mood.
WHAT THEY SAID
From Flores' press conference before practice:
On linebacker Vince Biegel, who reportedly suffered an Achilles injury at Tuesday's practice: "He's tough, he's smart, it's important to him, he's competitive, he's a team-first guy. So it's a tough loss; but as Biegel would want us to, we have to move on and other guys have to step up."
On load management with Tagovailoa: "It's case by case - as we go - he's coming off the hip and has looked good physically - if guys can go and their feeling good, we revisit on a daily basis."
On wide receivers: "I've been pleased with that group...working through some guys we're trying to manage (health wise) (notes Williams as he comes back from ACL injury was limited in practice)
"I like the group. I think they understand the importance of blocking in the run game and getting open and catching the football consistently. We just need to continue to keep working on those things."
On playing in New England with out fans week one: "When I was in high school growing up in Brooklyn, Brooklyn is not a big football town. I think we had two, three, four-hundred people at the game. But we had some loud fans at my high school – parents. But yeah, it will be a different experience. It will be something that really no one – I would say from college to the guys who play in this league – nobody has kind of played in an atmosphere like that. I don't know how it will feel. It will be the first time for all of us when we get there."
On linebacker Andrew Van Ginkel: "I think he's had a good offseason. He really works hard. His strength is up. I think the first to second year leap, as some would call it, is an important one. I think he's kind of taken that seriously and made a lot of improvements, and you can kind of see it in his game right now. Whether or not that translates into on-field production, that remains to be seen; but I'm happy with where he is."