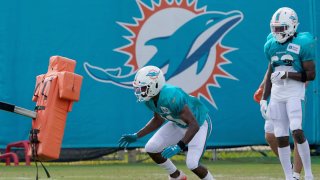 It may be the weekend for some, but the Miami Dolphins were back on the practice field in Davie on Saturday - and NBC 6 sports anchor Ruthie Polinsky has the latest, including one player's return after his Friday absence create quite the buzz around camp.
PRACTICE NOTES
Quarterback Ryan Fitzpatrick returned to practice on Saturday after missing Friday's practice due to personal reasons. Fitzpatrick is expected to be the team's starter for their September 13th opener at New England.
Cornerback Xavien Howard was taken off the COVID-19/Reserve list and was present at Saturday's practice in a limited capacity (still on the PUP list as he recovers from knee injury).
Per head coach Brian Flores, linebacker Jerome Baker is "day-to-day" after leaving Friday's practice with a trainer.
Linebacker James Crawford did not practice in Saturday's practice.
Rookie linebacker Curtis Weaver left practice on Saturday with an injury and did not return.