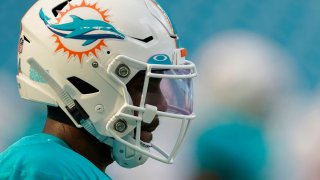 The Miami Dolphins were back on the field in Davie on Monday after a weekend that included their first scrimmage at Hard Rock Stadium - and NBC 6 sports anchor Ruthie Polinsky has a recap of all the action from camp, including the return of the team's likely starting quarterback after a short, emotional time away from the team.
PRACTICE NOTES
Donning a shirt reading "VOTE" - the "O" replaced with the Dolphins logo, head coach Brian Flores addressed the media prior to practice Monday morning, informing the media quarterback Ryan Fitzpatrick was back with the team and would practice. Fitzpatrick did not participate in Saturday's scrimmage at Hard Rock Stadium following the passing of his mother, Lori.
Monday's media viewing portion of practice was limited to twenty minutes. It will continue to be that way through the remainder of the season. The media is able to view stretching and limited individual drills.
During Monday's media availability at practice, wide receivers DeVante Parker, Kirk Merritt, Jakeem Grant and offensive tackle Jonathan Hubbard were not practicing. Parker and Grant were present working on conditioning not in pads. Prior to practice, Brian Flores said Parker is working every day to be back with the team as soon as he can. Flores says when he returns, he will be able to continue to improve and elevate.
Cornerback Byron Jones was working with a trainer, but dressed in pads and helmet.
Running back Patrick Laird was present during the media portion of practice wearing a red non-contact jersey.
Wide receiver Andy Jones re-signed with the team on Monday.
WHAT THEY SAID
From Flores' press conference before practice:
On cornerback Xavien Howard: "I think he'll work towards getting to where he needs to be. Look, if we feel like he's ready to go Week 1, then we'll let him go. If we feel like he's not, then we'll make the decision when we get to that point."
After looking at the film from Saturday's scrimmage: "From an O-line standpoint, I thought we made a few moves there. We played Robert Hunt with some different guys; we played Solomon Kindley with some different guys. It was good to get Hunt up there with some of those more veteran players, so that was good. I thought he played well. I thought the line as a whole played well - both units that were out there; but we can always get better communication, a little bit better fundamentals and technique. I thought our quarterbacks played well. I thought they made some good decisions, some not-so-god decisions."
On defense in scrimmage: "There were a couple of instances where we had the wrong amount of people on the field, so we've got to get that cleaned up. But I thought they played hard. I thought the conditioning was okay. It still needs some improvement; but we've still got a long way to go."
Flores shared that they have a plan for every position if they were to have multiple people absent due to COVID-19 or any other reason. Even the long-snapping position: "We've got three other guys who can snap on the team. The most interesting of the three was (wide receiver) Mack Hollins. I didn't realize that."
On soft-tissue injuries, given the big absence of time: "I know it's been a big issue around the league. I know that coming off of 2011 in the lockout year, it was an issue. We tried to do everything we can from an education standpoint to help them and help educate them do all of the things we can to prevent them. Obviously it's football and things happen."