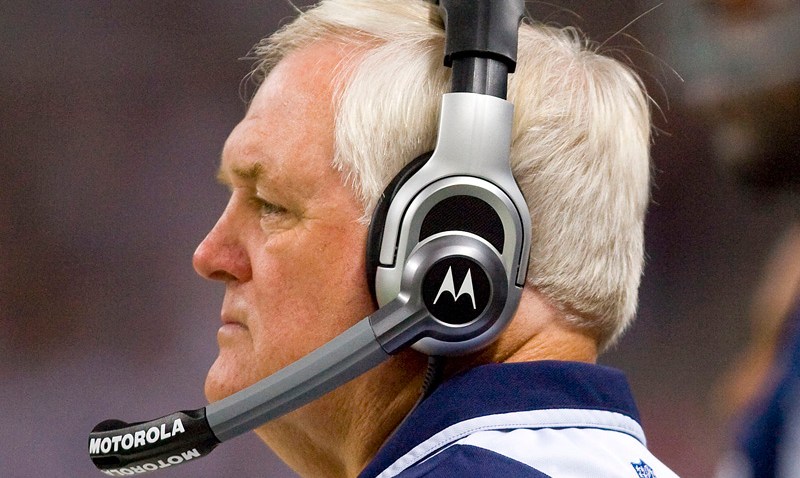 Things are confusing and vaguely frightening around Valley Ranch these days. And it looks like they will remain that way until Training Camp.
But what's next? Will Jerry systematically collect and burn anti-Cowboys literature? Will those who speak to the press be beaten with a sack of knobs?
It is unclear at this juncture and, I suppose, Jerry wants to keep it that way. But more intriguing than book-burnings and sack-beatings (if possible), is the motivation for this latest move.
If Jerry wants to keep things quiet in the newspapers, which, presumably, is the case, the gag order is a monumental image of bad timing. Because no news makes us reflect, look back, and, eventually, we are seeing a hazy scoreboard reading 44-6 in our minds -- and we're not seeing anything that gives us any hope for anything better in 2009. And that loathsome feeling is worth a thousand words, every day, forever.
Starting today, maybe I'll change my tune, and buy into anything that Rich Uncle Jerry wants to sell me. It won't be truthful, but at least it won't be nearly so painful.
So here it goes: There's no problem with chemistry. Wade Phillips is an effective head coach. Jerry Jones is a great general manager, and he is not losing it. We'll be okay, and some unknown change will undoubtedly occur between now and then. And this change will bring us that elusive Super Bowl glory.
Listen to me now, friends. Buy into my 'Don't question Jerry' policy today, lest you find yourself looking at a team of rich, bickering divas, led by an impotent head coach and a capricious and all-too-powerful oil tycoon running the show.
So maybe this silence will be a good thing. Ignorance, after all, is bliss.
Copyright FREEL - NBC Local Media