Saturday marks day nine of the Tokyo Olympics - MyKayla Skinner takes over Simone Biles' spot in the vault final, Florida's Caeleb Dressel won two more golds and the thrills of the BMX freestyle finals.
Here are our 6 things to watch at the Tokyo Olympics:
1. Caeleb Dressel leaving Tokyo with five Olympic gold medals
World champion Caeleb Dressel set a new Olympic record to win the gold medal in the men's 50m freestyle final on Saturday.
The Florida swimming star Dressel also helped power the U.S. men's team as it broke the world record to win gold in the 4x100m medley relay, a race the U.S. has won 15 straight times.
On the last night of swimming at the Tokyo Olympics, the Americans won four more medals -- setting records in two events -- to finish with 30 medals overall: 11 gold, 10 silver and nine bronze.
Bobby Finke picked up his second gold in the 1500m while the U.S. women picked up silver in their medley relay.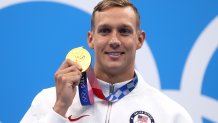 Watch live in NBC's primetime coverage Saturday at 8 p.m. ET or catch all the action by clicking here
2. MyKayla Skinner wins silver in women's gymnastics vault final
MyKayla Skinner will have some additional luggage with her when she finally leaves Tokyo.
The American gymnast's departure from the Olympics was halted after she was named a replacement for Simone Biles in Sunday's women's vault final. She made the most of her new opportunity by earning a silver medal.
Skinner hit a Cheng and an Amanar in her two vaults, earning a total score of 14.916. Brazil's Rebeca Andrade won gold with a score of 15.083, while South Korea's Yeo Seo-jeong earned bronze with a 14.733 score. Andrade's victory marked the first Olympic gold for a Brazilian woman in gymnastics.
Meanwhile, Suni Lee is building a colorful collection of Olympic medals.
After previously earning a gold medal and silver medal in Tokyo, the 18-year-old American won bronze during Sunday's women's uneven bars final. She was the first gymnast to compete in the final and posted a 14.500 score with a difficulty of 6.200.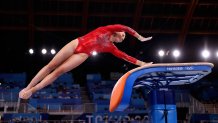 3. USA's Trayvon Bromell falls behind in sprint to become world's fastest man
Trayvon Bromell failed to qualify for the men's 100m final in heartbreaking fashion.
Bromell finished third to Nigeria's Enoch Adegoke by a thousandth of a second in the second semifinal heat. Both sprinters crossed the finish line in 10.00 seconds but after photo review, Adegoke was given the automatic qualifying spot.
In the next heat, China's Su Bingtian and Ronnie Baker ran a semifinal-best time of 9.83 seconds to knock Bromell out.
4. USA's Xander Schauffele Holds On to Win Gold in Men's Golf
The United States' Xander Schauffele entered the final round of the men's golf tournament with a one-stroke lead on Japan's Hideki Matsuyama. And while a few golfers made it close, it was Schauffele that walked away remaining in the lead, this time with gold around his neck.
The 27-year-old from California shot 4-under par in the final round, finishing the tournament 18-under. It was just enough to hold off Slovakia's Rory Sabbatini for the gold. A birdie on 17 broke a tie with Sabbatini and Schauffele parred on 18 to seal the victory.
While Schauffele was in the spotlight at the end of the tournament, the story of the round was Sabbatini. The Slovakian came into the final round 7-under in a tie for 17th. But Sabbatini found his best game in Round 4, shooting an Olympic record 10-under par, pushing his total score to 17-under. He was sensational with 10 birdies and an eagle in the final 18 holes. His 10-under par was the best score recorded out of any round in the tournament and enough to secure him a silver medal.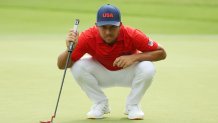 5. Americans soar in BMX freestyle finals
Team USA soared at the inaugural Olympic BMX freestyle finals.
Team USA's Hannah Roberts won the silver medal in the first-ever Olympic BMX freestyle park final with a score of 96.10.
Roberts, the reigning world champion, was a heavy favorite for gold.
Great Britain's Charlotte Worthington wowed with a score of 97.50 in her second run to take the top spot. Switzerland's Nikita Ducarroz won the bronze.
Two Americans will compete in the men's final. Justin Dowell and Nick Bruce finished with the two lowest scores in seeding. Bruce pedaled through an injury during the seeding rounds so that he could reach the final. Dowell will also try to jump up the standings and beat the favorite in Australian Logan Martin.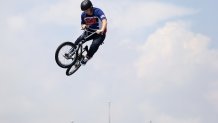 6. Krysta Palmer Takes Bronze for U.S. in Women's 3m Springboard
American Krysta Palmer won bronze in the women's 3m springboard in Tokyo Sunday morning.
The 29-year-old scored 343.75 points on four dive attempts, taking the lead heading into the final round. Palmer landed a 73.10 dive to stay clear of Malaysia's Sabri Nur Dhabitah and clinch a podium spot in her first Olympic Games.
Palmer, who won the 3m springboard at the U.S Olympic trials, didn't start diving until she was 20. She competed in gymnastics for several years and trampoline before starting her diving career. After competing in diving for just 10 years, Palmer has reached the pinnacle of the sport as an Olympic medalist.
China had the top two finishers, with Shi Tingmao winning gold with a score of 383.50 and Wang Han taking silver with a 348.75.