More gold for Team USA on Day 8 of the Tokyo Olympics.
Two of the best to ever swim for Team USA, Caeleb Dressel and Katie Ledecky, were back in pool and continued their dominance for the Americans in Tokyo - while Team USA men's basketball looks to move one step closer toward advancing into the knockout round.
Stay informed about local news and weather during the hurricane season. Get the NBC 6 South Florida app for iOS or Android and pick your alerts.
Here are our 6 things to watch at the Tokyo Olympics:
1. Caeleb Dressel, Katie Ledecky continue Team USA domination in the pool
Caeleb Dressel and Katie Ledecky highlighted another strong night for Team USA in swimming. In the first of Dressel's three Olympic swims on Friday, he won gold in the 100m butterfly with a time of 49.45 seconds, improving on his own world record. Meanwhile, Kristof Milak of Hungary took silver and Noe Ponti of
Kaite Ledecky won the 800m for the third straight time, giving her six individual gold medals in her career, the most of any female swimmer. Ledecky has 10 medals total but could add to her collection in the future.
"That was not my last swim," she said after the race, in regard to further Olympics. "I'm at least going to '24, maybe to '28, we'll see. I just knew it was my last swim here."
In the women's 200 backstroke, Australia's Kaylee McKeown won the gold medal to sweep the women's backstroke events in Tokyo. The United States' Rhyan White and Phoebe Bacon placed fourth and fifth, respectively.
In the inaugural mixed 4x100m medley relay, the Americans went with a lineup of Ryan Murphy (backstroke), Lydia Jacoby (breaststroke), Torri Huske (butterfly) and Dressel (freestyle). Although Murphy gave the U.S. a big lead in the first leg, the Americans fell behind as the race went on. Jacoby swam admirably despite her now-famous pink goggles falling off her face.
Great Britain won gold, while China took silver and Australia took bronze. Team USA finished fifth.
2. Women's 100m highlights big day on the track
In the first track and field event of the evening, the American trio of Anna Cockrell, Sydney McLaughlin and Dalilah Muhammad advanced to the semifinals in the women's 400m hurdles. Defending champion Muhammad closed out Heat 5 in first place, posting a time of 53.97, which is the fastest time of the evening.
Team USA's Clayton Murphy and Bryce Hoppel advanced to the semifinals in the men's 800m. Murphy finished first place in Heat 3 posting a time of 1:45.53 where he took a commanding lead in the final seconds. Hoppel closed out Heat 6 posting a qualifying time of 1:45.64.
In the women's 100m hurdles, Team USA's Keni Harrison, Gabriele Cunningham and Christina Clemons all advanced to the semifinals. Cunningham qualified first posting a time of 12.83 in Heat 1. Harrison finished in first place in Heat 2 with a time of 12.74, and Clemons was the last member of Team USA to qualify posting a time of 12.91 in Heat 4.
American Valarie Allman is the only member of Team USA to advance to the women's discus throw final. Allman advanced to the final posting a distance of 66.42 on her first attempt in Group B. She not only beat the qualifying distance of 64 meters, but beat everyone who threw before her. The final will take place on Monday at 7 a.m. ET.
Team USA's Chris Nilsen and KC Lightfoot have advanced to the men's pole vault final. Both Lightfoot and Nilsen cleared clearing distances of 5.75 meters to qualify for the top 12. Matthew Ludwig - who arrived in Tokyo nearly 20 hours before his heat to replace Sam Kendricks due to Kendricks testing positive for COVID-19 - cleared 5.5m in Group B but was unable to make the final 12.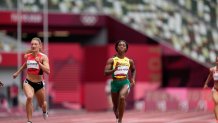 Stream the second session live by clicking here.
3. Kevin Durant Passes Carmelo Anthony on Scoring List As Team USA Cruises Past Czech Republic
Jayson Tatum scored 18 of his game-high 27 points in the fourth quarter as the United States men's basketball team cruised to its second straight win in Tokyo, routing the Czech Republic 119-84.
The story of the game was Kevin Durant, who passed Carmelo Anthony as the all-time scoring leader in the U.S. men's basketball history.
Durant entered Saturday's game needing six points to surpass Carmelo Anthony and his record of 336 points as the U.S. Men's Basketball all-time leading scorer. After a slow start for the U.S., during which the team fell behind by 10 points in the first quarter, Durant hit a shot that not only gave Team USA its first lead of the game at 34-33 but also made him the team's top scorer of all-time.
Team USA extended its lead after halftime and finished the quarter on a 16-2 and never looked back.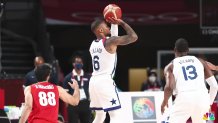 4. American Xander Schauffele's long eagle putt highlights men's second round
Xander Schauffele of Team USA shot a sparkling eight-under 63 in the second round of the men's Olympic golf tournament Friday before the second round was abandoned for the day due to a late threat of lightning.
It was the third such disruption for the tournament and the second for the day, with play suspended for more than two hours just before midday.
British Open champion Collin Morikawa and former U.S. Ryder Cup hero Patrick Reed have work to do over the weekend to threaten for medals. The pair were in a group tied at three-under, eight strokes adrift of Schauffele.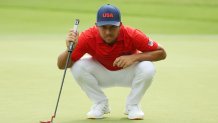 Watch the second part of Round 3 Saturday at midnight by clicking here.
5. U.S. women's unable to stay undefeated
Team USA was unable to remain perfect in pool play, losing to the Russian Olympic Committee in three sets. The loss is disappointing, but with three wins in pool play, the United States is already assured a sport in the quarterfinals.
The defeat wasn't the only loss for Team USA -- superstar Jordan Thompson left with an apparent injury. Thompson landed hard on her ankle from a block early in the second frame and was immediately removed from the game. She was evaluated on the sidelines through the remainder of the second set, but left the court when it concluded.
The U.S. is on a quest to win Olympic gold in Tokyo, something the program hasn't done in the 57 years that volleyball has been featured at the Games. In fact, no other country has won more women's volleyball Olympic medals -- three silver and two bronze -- without taking home a gold.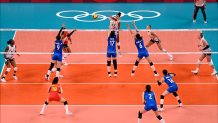 6. Krysta Palmer, Hailey Hernandez advance to 3m springboard final
Krysta Palmer enters the women's 3m springboard final in fifth place. Palmer tallied 316.65 points on five dive attempts.
Her fifth and final dive attempt might have been the most impressive as Palmer scored a 3.4 degree of difficulty along with 71.40 dive points for a forward 2.12 somersaults dive with two twists.
Palmer will attempt to be the first American woman to win an individual diving event since 2000.
American Hailey Hernandez also qualified for the final scoring 291.60 points on her five dive attempts.
The women's 3m springboard final will take place on Sunday morning at 2 a.m. ET.