Wednesday marks day 13 of the Tokyo Olympics - and the stakes are rising for Team USA in the medal hunt. Here's a look at is what and how to watch.
Team USA men's basketball was back in action and on the court looking for a berth in Friday's gold medal game, two of America's best aimed for medals in track and field, and the U.S. women's national soccer team hoped to leave Japan with another medal when they faced Australia.
Stay informed about local news and weather during the hurricane season. Get the NBC 6 South Florida app for iOS or Android and pick your alerts.
Here are the 6 things to watch at the Tokyo Olympics.
1. Team USA Men's Basketball Advances to the Gold Medal Game
Team USA defeated Australia 97-78 to advance to the gold medal game. While the final score reflects a blowout, that certainly was not the case early in the game. A 28-4 U.S. run that started late in the second quarter and carried into the third turned what had been a 15-point deficit into a comfortable lead.
Kevin Durant led the way with 23 points and nine rebounds, placing him one win away from tying Carmelo Anthony's Olympic record of three gold medals in basketball. Devin Booker added 20 points on 7-for-10 shooting.
The United States advanced to the gold medal game on Friday at 10:30 p.m. ET against the winner of France and Slovenia.
2. Team USA Earns Multiple Medals, Including Gold, in Track and Field
For the second consecutive Olympics, Americans Ryan Crouser and Joe Kovacs finished first and second respectively in the men's shot put event. Crouser beat his own Olympic record, throwing the shot put 23.30 meters on his final attempt to take the gold. New Zealand's Tom Walsh won bronze, which he also took in 2016, making it a repeat across the board on the winner's podium. It is the first time that has happened in a track and field event in Olympic history.
Grant Holloway finished second to claim silver in men's 110m hurdles, posting a time of 13.09 despite being the overwhelming favorite to win it all. The world champion blazed to the quickest time in the hurdles semifinals, but was unable to hold on to the top spot in the final. Hansle Parchment of Jamaica won gold in the upset, posting a time of 13.04, and handed Holloway his first loss of the year. Jamaica also won gold in the 2016 Rio Olympics.
The U.S. advanced in the women's 4x100m relay, finishing second overall with a time of 41.90. Team USA, which comprised of Javianne Oliver, English Gardner, Teahna Daniels and Aleia Hobbs finished ahead of Team Jamaica. The heats were missing the star power of Allyson Felix, Shelly-Ann Fraser-Pryce and reigning women's 100m and 200m champion Elaine Thompson-Herah.
Unfortunately the men did not fare as well. Team USA, which included Trayvon Bromell, Ronnie Baker, Fred Kerley and Cravon Gillespie, finished sixth in Heat 2 (eighth overall) with a time of 38.10.The U.S. men's team hasn't medaled in the 4x100m relay since earning silver in 2004.
Vashti Cunningham was the only member of Team USA to advance in women's high jump. Cunningham automatically qualified after posting a jump of 1.95m on her third and final attempt. She placed 13th in high jump at the 2016 Rio Olympics, and is a favorite to win it all at Tokyo.
Team USA's Will Claye finished fourth in men's triple jump. His longest jump was 17.44m on his third attempt. The two-time silver medalist looked to claim gold for the United States with the absence of two-time Olympic triple jump champion Christian Taylor, who did not compete due to a ruptured Achilles tendon. Pedro Pablo Pichardo of Portugal won gold with a jump of 17.98m on his third attempt.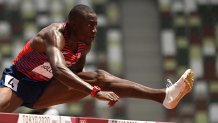 Watch the second session on Peacock Thursday at 6 a.m., or stream live by clicking here
3. Rapinoe, Lloyd braces help USA claim bronze over Australia
Megan Rapinoe let forth a sort of primal scream after lashing a quick-reaction volley home for her second goal of the United States women's national team's 4-3 win in the bronze medal match versus Australia in Kashima on Thursday.
The release was understandable.
The legendary Team USA winger and her almost-as-hallowed team were denied in their quest to reclaim the gold medal in Tokyo, and Rapinoe is one of several stars who didn't shine as brightly on the road to bronze.
Carli Lloyd also scored her first goal of the tournament, taking a Lindsey Horan feed and smashing home just before halftime. She'd get her second, becoming the Olympics' all-time leading female scorer, when she poked a breakaway through the legs of Australia's Teagan Micah.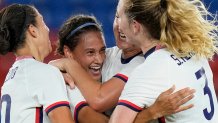 4. Team USA edges past the ROC on way to gold medal match
Team USA is now one match away from a three-peat in water polo gold, following a tight semifinal against the Russian Olympic Committee.
The duel in the pool at the Tatsumi Water Polo Centre followed a preliminary match in which the Americans embarrassed the Russians via an 18-5 blowout. This go-around, the U.S. hit a low of 7-4 in the second quarter before finishing the first half 7-6.
By the third quarter, Team USA fought back to even the score, 8-8. They then took a two-point advantage with four-and-a-half minutes to go and held the lead until an 11-11 tie in the fourth. Aria Fischer soon responded with a clutch goal to make the score 12-11. Another invaluable player: Miami native Ashleigh Johnson, whose ironclad defense blocked several dangerous shots.  
Maggie Steffens continued to provide offense for the United States. Steffens -- who leads the women's water polo all-time Olympic scoring with 55 goals -- hit three goals. Teammate Maddie Musselman lived up to her name, throwing five points on the scoreboard.  
Final score: 15-11.
The U.S. has won a medal in water polo at every Olympics since the event's introduction in 2000; they will face either Spain or Hungary in the final.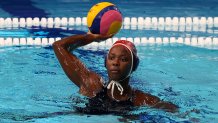 5. David Taylor takes on Hassan Yazdani for wrestling gold
Three Olympic freestyle wrestling titles will be up for grabs Thursday morning: men's 57kg, men's 86kg and women's 57kg.
David Taylor is seeking his first Olympic medal after missing out on the U.S. wrestling team in Rio. He is competing in the men's freestyle 86kg final against Iran's Hassan Yazdani after beating Belarus' Ali Shabanau in his opening match, San Marino's Myles Nazem Amine in the quarterfinals and India's Deepak Punia in Wednesday's semifinal tilt. The American beat his first three opponents by a combined 33-2 score.
Thursday's final will be the third chapter in the Taylor-Yazdani rivalry. Taylor upset the 2016 Olympic gold medalist in their first matchup at the 2017 World Cup. Their second matchup came at the 2018 world championships, and Taylor emerged victorious once again. Yazdani has not lost a match since, setting up a spectacular final on Thursday.
Thursday's wrestling slate begins at 5:15 a.m. ET.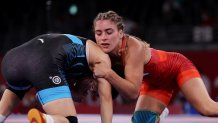 Watch the match on the Olympic Channel Thursday at 5:15 a.m. ET, or stream live by clicking here
6. Colin Duffy tries to reach first Olympic sport climbing podium
Two Americans will attempt to race to the top of the walls -- and standings -- at Tokyo's Aomi Urban Sports Park on Thursday.
Team USA's Colin Duffy and Nathaniel Coleman are among the eight athletes competing in the inaugural Olympic sport climbing final. Duffy came in third overall during qualifying after ranking sixth in speed, fifth in bouldering and second in lead. Coleman, on the other hand, was eighth overall and the final qualifier for the final. He ranked 10th in speed, 11th in bouldering and fifth in lead.
France's Mickael Mawem placed atop the leaderboard in qualifying, while Japan's Tomoa Narasaki Tomoa was second.
The action begins with the speed final at 4:30 a.m. ET, transitions to the bouldering final at 5:30 a.m. ET and lead final at 8:10 a.m. ET. While the climbers take on three different disciplines, the medals will be awarded to the three highest finishers on the overall leaderboard.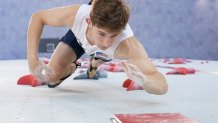 You can stream the final live starting Thursday at 4:30 a.m. ET by clicking here