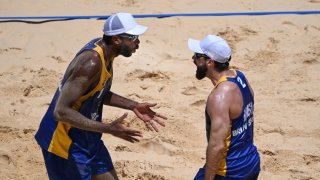 Bruno Oscar Schmidt's bid to win back-to-back beach volleyball gold medals started with a new partner and a hiccup but also an all-important win.
Bruno and Evandro had to go an hour to collect a 2-1 win over Chile's Marco Grimalt and Esteban Grimalt, sandwiching 21-15 and 15-12 sets around a 21-16 loss.
Download our app for iOS or Android to get the latest forecasts on the hurricane season— and sign up for alerts.
Bruno took gold with Alison Cerutti in Rio, but the two-time Olympic medalist Alison is with Alvaro Filho in Tokyo. They handled Argentina's Nicolas Capogrosso and Julian Azaad in their opener.
Elsewhere, Dutch duo Alexander Brouwer and Robert Meeuwsen handed a 2-0 loss to Team USA veteran duo Philip Dalhausser and Nicholas Lucena.
Copyright NBC Olympics – Tokyo