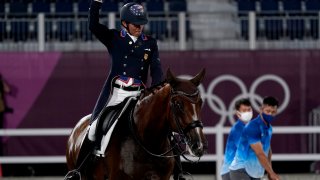 The U.S. equestrian team took home silver in the dressage team grand prix special.
The team of Adrienne Lyle, Steffen Peters and Sabine Schut-Kery totaled 7,747 points. Germany won gold with 8,178 points and Great Britain won bronze with 7,723 points.
Download our app for iOS or Android to get the latest forecasts on the hurricane season— and sign up for alerts.
With the medal, Peters becomes the oldest U.S. Olympic medalist since 1952 at the age of 56 years old. It's his third medal in his career, as he also won the bronze in 1996 and 2016 with the United States. It is the first medal for Schut-Kery and Lyle.
Lyle, riding her horse Saldino, scored 2,504.0 points in the first run for the United States. Peters followed with his horse Suppenkasper, who scored a 2,558.5.
Tokyo Olympics
Watch all the action from the Tokyo Olympics live on NBC
Ending the attempts for the Americans with Schut-Kery on her horse, Sanceo, as she posted a score of 2,684.5. It was the third-highest individual score of the grand prix.
The total is tied for Team USA's best Olympic result in the event. The U.S. also earned silver in 1948.