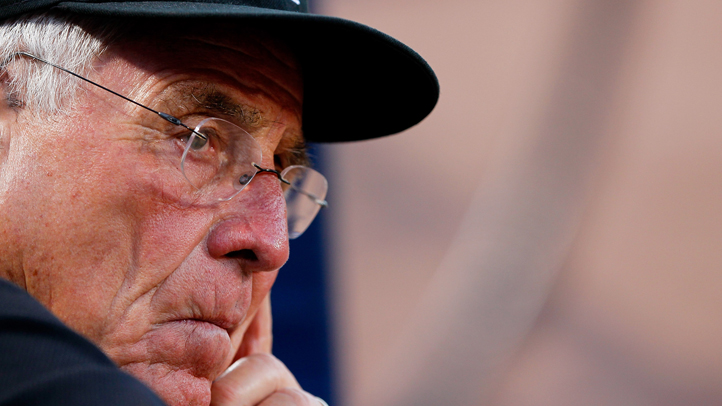 Jack McKeon did not come out of retirement for this.

The Florida Marlins' 80-year-old manager loudly criticized his charges after the San Diego Padres finished off a four-game sweep of the Fish Sunday, giving them their 15th loss in the last 17 games.

"I'm embarrassed and they should be, too," McKeon groused after the Padres won 4-3 on a bases-loaded, walk-off single by Will Venable in the ninth inning. The loss dropped Florida to 13 games below .500, a full 25 games behind first place Philadelphia in the NL East standings.

Especially troubling to McKeon has been the Marlins' penchant for allowing the other team to score in the first inning of late. Florida has allowed 12 first-inning runs in its last four games, including 4 on Sunday.

"It's tough. It's getting embarrassing," McKeon said. "Before we get out of the second inning, we're behind three or four runs. It's getting kind of old."

Not even Mike Stanton's 30th home run of the season could cheer up Trader Jack. He used the occasion (Stanton is the second Marlin ever to post 30 home runs in a season as a 21-year-old, joining Miguel Cabrera) to make a dig at the Marlins pitching staff.

"I imagine he'd sure as heck like to hit against our staff, because if they get behind, they lay it in there," McKeon complained to the Miami Herald.

"(San Diego) isn't a very good hitting club, but they kick the hell out of us every time we see them," he continued. "It's either our pitchers aren't that good or something."

McKeon finished off with a warning for the Marlins. "Some of these guys better wake up," he said. "This is the time of the year when you better be a salesman and sell your wares, and show how badly you want to be a major league player. It's not a picnic. They're not on scholarship."

We're guessing the Marlins clubhouse will be decidedly less upbeat for the remainder of the season.

Last month Marlins owner Jeffrey Loria suggested the team could bring McKeon back to manage the club in 2012. Even if he still feels that way (Loria has been known to be fickle, especially where managers are concerned), it is hard to imagine that McKeon would rather stomach another season of Marlins baseball when the simple pleasures of (another) retirement are beckoning.

David Hill is a Miami native and cofounder of Marlins Diehards, the only Florida Marlins blog with perspective on the eccentricities of Marlins fandom.
Copyright AP - Associated Press