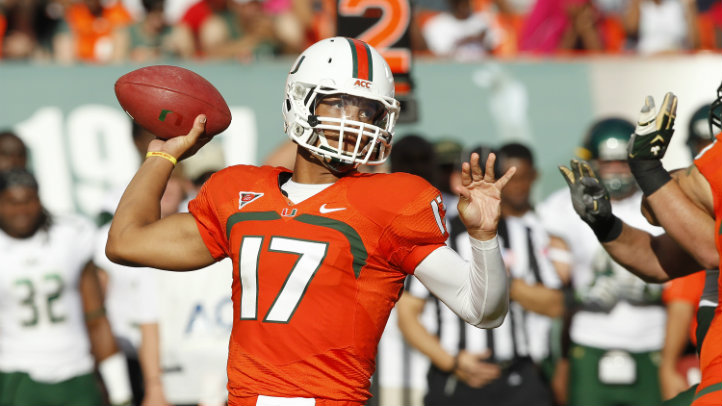 Miami Hurricanes QB Stephen Morris gave Canes fans a scare when he left Saturday's win over Savannah State in the first quarter with a lower right leg injury. On Sunday, UM coach Al Golden said Morris sustained a bone bruise, but will be able to play in Miami's game against USF on Saturday.
"He's doing good," Golden said. "There's some soreness, certainly, and some stiffness. Otherwise Stephen would have been back last night."
The injury occurred with 8:51 left in the first quarter, when Savannah State DE Alex Wierzbicki landed on Morris' ankle following an incomplete pass. Morris had to be taken back to the lockerroom for further examination after the play, though he was able to walk off the field without assistance.
After the game Golden said X-rays taken of Morris' leg were negative, adding, "It looks like he'll be fine."
On Sunday Golden said he is not sure if Morris will be able to practice on Monday, but "our goal is to get him going for our Tuesday practice, which is our most demanding practice."
Golden did not mince words about Morris' status for Saturday, though, saying he "absolutely" thinks Morris will play against South Florida.
"He's a fast healer. He's very tough-minded. I expect him to be back on the field real soon."
Before his injury, Morrise completed three of four passes for 82 yards, 80 of which came on a touchdown pass to Allen Hurns on the Canes' second drive of the game.
For the season, Morris has completed 30 of 56 passes for 404 yards, with 4 touchdowns and two interceptions.
Backup QB Ryan Williams entered the game after Morris' exit, throwing for 176 yards and 2 touchdowns on 11-of-13 passing. Gary Crow completed all six of his passes for 55 yards and a touchdown in the second half.