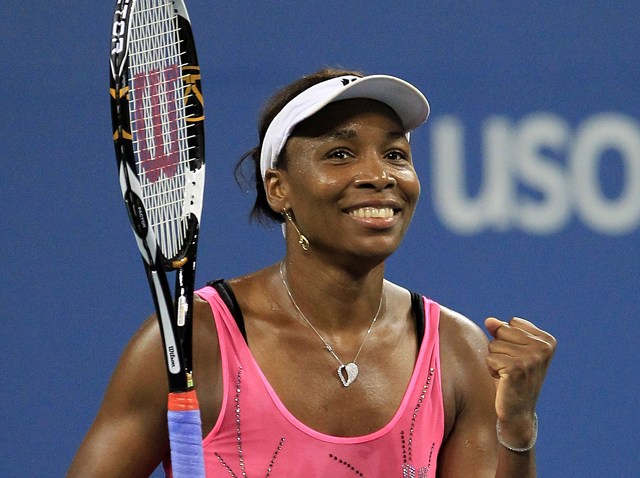 By just watching NBC's new hit Fashion Star, it's pretty obvious celebrities are slowly taking over the fashion world. From Victoria Beckham to Snooki, almost any and every Hollywood starlet has a line of their own. But unlike Venus William, who recently relaunched her line EleVen in Miami Beach, they don't have the skill set to back it. Williams, on the other hand, has a fashion design degree from the Art Institute of Fort Lauderdale. Not to mention 21 grand slam tennis titles.

Yet her fashion line is not the only thing she has to be excited about in March. She will be also relaunching her sports career on Key Biscayne after having to take a small break to seek treatment for her autoimmune disease, Sjorgen's Syndrome. Since disclosing her medical condition at last summer's US Open, she has not played a single match. But during the Sony Ericsson this month, she has been given a wild card to play in Miami, where she won the title three times between 1998 and 2001.

So before focusing on what sports analysts are calling her "comeback," we sat down with her in Miami Beach to talk about everything from returning to the court to what she thought about Peyton Manning heading to Denver.

Niteside: You don't just design clothes for a hobby. You have a degree in fashion design, right?
Venus Williams: I do. I like to think I know what I am doing. I am always learning, though. I am always pushing myself for better and more creative ideas.

Did you always want to wear your own clothes on the court?
Everyone brings what they are to what they do and my line, EleVen, is just who I am. My design belief is that when you are moving and looking sporty, you should be able to show your own personal flare. You always want to feel pretty. My motto is if you don't look good, you wont play well.

I know your appearance at Sony Ericsson will be your first since your time off for Sjogren's Syndrome.
Yes, it will be. I am very excited. I am feeling much better. It's a really exciting time for me with my first tournament back and my EleVen launch. I mean, really exciting.

Some people are calling this your "comeback."
I have had major injuries before and have had to take time off. At least with those, I was more in control. This was a whole another story. I just want to play well. As for a comeback, I mean, why not call it that? I think I have a lot more tennis in me.

You were the first black woman to be number one in the world. Do you think of yourself as iconic?
Oh God, no. That's nice to hear-- maybe one day I will see it for myself. Its been amazing to achieve anything at all. I think I have done more than I ever thought I could. I hope to do a lot more.

As a South Florida resident and part owner, are you sad to see Peyton Manning go to the Denver Broncos?
I would have loved to see him play for our city. I love the Miami Dolphins and it is an honor to be any part of the team. Really, it is. I love living here. All I know is that the Miami Dolphins are fighters. No matter how low we go, we will always make our way back to the top.