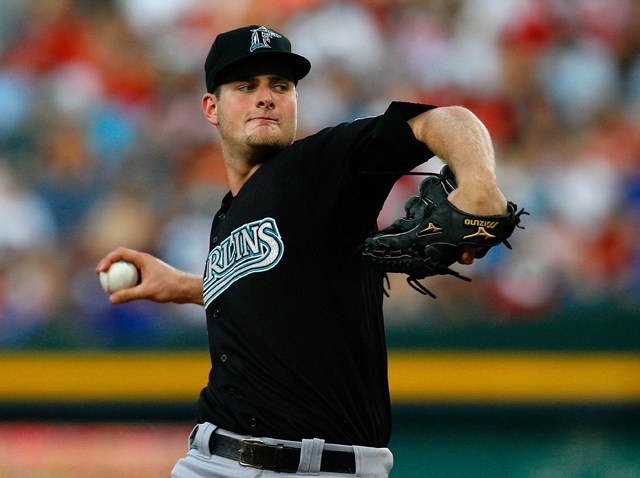 You know how the Dolphins got T-Pain and Jimmy Buffett to re-record songs to play in the stadium? Maybe the Marlins should just get it over with and have Creed put out the Miami baseball-themed album no one wants. It wouldn't even be that hard. They could just take existing Creed songs, change a few words, and presto!
"My Sacrifice (Fly)," "With Arms Wide Open, Flailing, Trying to Catch a Chris Coghlan Throw Home," "Torn Groin Muscle," "What's This Life For, If Not a Grand Payroll Experiment."
We could go on.
But that'd be ridiculous, wouldn't it? And yet...Scott Stapp is singing the national anthem at tonight's 2010 home opener, meaning his unholy union with the team isn't stopping at charity work. The Fish might as well bump the Michael Jackson Laser Spectacular and host that Fred Durst boxing match that never happened.
But in terms of Real Baseball Things, it should be a pretty good time tonight as South Florida boy Chris Volstad opens the Fish (2-1) at home against the Dodgers at 7:10. The team expects at least 35,000 people at Sun Life, which doesn't happen often, bless their hearts, and Coghlan and Hanley Ramirez will be honored before the game for earning the National League's Rookie of the Year award and batting title, respectively.
In fact, if you play your Billy Bingo right, you just might go home with one of 5,000 cubic zirconia replicas of the diamond pendant Jeffrey Loria bought for Han-Ram. Totally worth sitting through that national anthem, if you ask us -- and we really do mean that because OH, HEY, SHINY!
As for Volstad, his 2008 season was, well, not good, with a 9-13 record with a 5.21 ERA. But he bloomed late in spring ball with his sinker, and says he's on the right track.
"I'm definitely feeling good right now," he said. "The way I threw the last three games of Spring Training and seeing that the work I've put in between starts is paying off is encouraging. Everything has been getting progressively better....
"Wiping the slate clean and starting over -- that's the good thing about baseball."
Here's hoping. We're really fine to sit through a Scott Stapp national anthem, but combine that with a performance like Opening Day's, and, well, no one wants to see 35,000 people not being taken higher at once.
Janie Campbell is a Florida native who believes in the pro-set and ballpark hot dogs. Her work has appeared in irreverent sports sites around the internet.