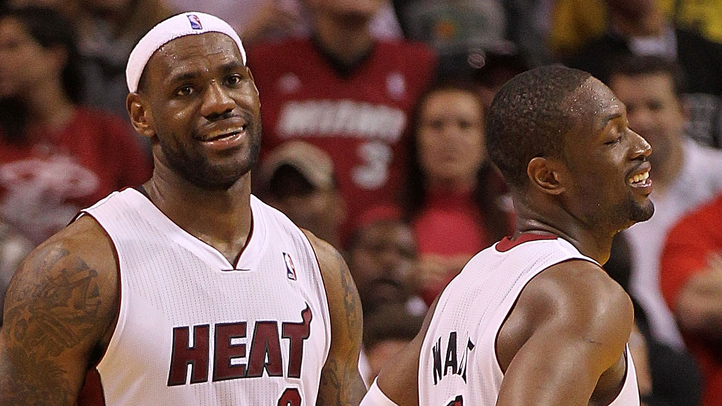 LeBron James and Dwyane Wade are All Stars yet again. For the eighth year in a row, and second as Miami Heat teammates, the two will represent the Eastern Conference in the annual All-Star game.
Wade is making his seventh start, while James has started each previous All-Star Game. Wade has missed 9 of the Heat's 22 games and has seen his scoring average fall 5 points per game from last season, but the All-Star vote is a largely popularity contest.
James, meanwhile, is having arguably the best season of his career. He's averaging 29.7 points, 8.3 rebounds, and 7.0 assists on 55% shooting.
Chris Bosh did not win the fan vote for the starting power forward, losing out to Carmelo Anthony of the New York Knicks. Bosh was the fifth-leading vote getter among forwards, with roughly a third of the votes Anthony received.
Bosh will likely be named a reserve early next week, but his absence from the starting lineup has accomplished the impossible: make Charles Barkley defend a member of the Big Three.
"Chris Bosh has been the second-best player on the Heat," he said Thursday night on TNT's All-Star Selection show. He even chided Bosh's (literally and figuratively) biggest critic, Shaquille O'Neal, when Shaq argued that Anthony "is doing more than Bosh."
"There you go again," Barkley retorted, channeling his inner Ronald Reagan (Barkley is a lot like Jack Donaghy of 30 Rock when you think about it).
Joining Wade, James and Anthony in the Eastern Conference starting line-up are Dwight Howard of Orlando and Derrick Rose of Chicago. The Western Conference will start Kobe Bryant and Andrew Bynum of the LA Lakers, Chris Paul and Blake Griffin of the LA Clippers, and Kevin Durant of Oklahoma City.
NBA coaches will vote for the 14 All-Star reserves, which will be announced on February 9. The All-Star Game will be played February 26 in Orlando.
Wade and James filmed a short video thanking the fans for voting them into the All-Star game: