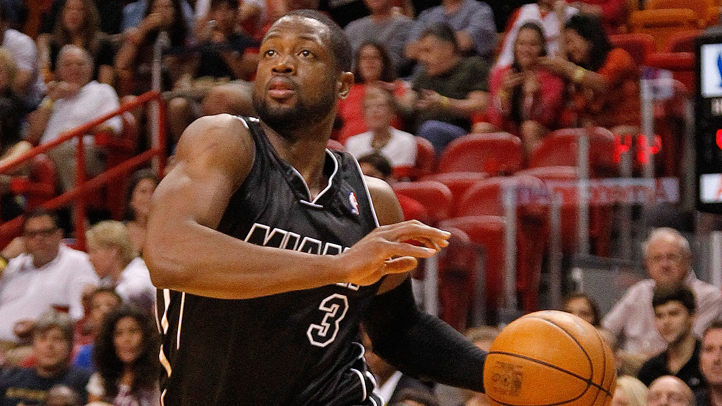 Dwyane Wade hasn't had a shooting streak like this since he was a rookie. The Miami Heat haven't had a winning streak like this all season.

And the team with the NBA's best record insists that better days are ahead.

Wade scored 27 points, LeBron James had 25 points, 11 rebounds and eight assists, and the Heat returned from a marathon road trip to beat the Orlando Magic 90-78 on Sunday for their sixth consecutive victory, each of them by double digits.

"We want to make sure that we're keeping things in perspective, we're staying humble and understanding that NBA adage — you're never quite as good as you think you are when you're winning and you're never quite as bad as you think you are when you're losing," Heat coach Erik Spoelstra said. "And we are playing better, more consistent and we have taken another step forward as a basketball team."

With former President Bill Clinton sitting courtside next to Heat managing general partner Micky Arison, Udonis Haslem scored 10 for the Heat, who improved to 25-7, a half-game better than Chicago for the best record in the NBA and the Eastern Conference. The 12-point final margin Sunday was Miami's smallest during its current winning streak.

Wade made 13 of 23 shots from the floor, shooting 50 percent or better for the 10th straight game. He had an 11-game run of those nights as a rookie.

"Taking high-percentage shots," Wade said. "And just in a groove."

J.J. Redick, who was a late addition to Orlando's starting lineup after Jason Richardson was scratched with chest pain that resembled heartburn, scored 17 points. Dwight Howard finished with 12 points and 15 rebounds and Glen Davis — back in the Magic lineup after a one-game absence to attend his father's funeral — scored 12.

"They just played harder than us," said Howard, whose team was the last to beat Miami. "They did do well tonight. They clogged the paint. They forced me to pass the ball out. It was a pretty good defensive effort. Every time I caught the ball in the paint, everyone was there."

Quentin Richardson added 10 points for Orlando, which made 11 shots from 3-point range. The Magic had been 12-1 when connecting on at least that many this season.

"There are things we can do to play better," Magic coach Stan Van Gundy said. "And I'm sure Erik feels there are things they can do better as well."

Fueled by Wade scoring 12 points in the first seven minutes, Miami ran out to a 22-11 lead, the second straight game where the Magic faced a double-digit deficit in the opening quarter.

Just as they did two days earlier against Milwaukee, Orlando rallied. The Magic scored the next 13 points, 3-pointers from Redick and Quentin Richardson getting things started. A 3-pointer from Ryan Anderson with 8:57 left in the half gave Orlando what was then its biggest lead at 27-24.

Good thing the Magic had that run. The rest of the half was downright abysmal.

"It was just one of those nights," Quentin Richardson said.

Orlando went more than seven minutes without a point, and wound up missing 11 straight shots and 14 of 15 in one stretch. Howard only had six shots in the first half, the Magic finished with just 12 points in the second quarter, and Miami took a 43-31 lead into intermission.

The Magic seemed to be in position to make a run in the third quarter, even with Wade and James combining for 16 points in the period. Davis' steal and layup with 1:44 left got Orlando within nine.

But the Heat had a quick and decisive answer.

Mario Chalmers made two free throws, Shane Battier hit a 3-pointer — Miami's third attempted 3 on that possession — and Udonis Haslem hit a jumper from the right corner with 1.8 seconds left to send Miami into the fourth with a 70-54 edge.

"This can't be (our) top gear right now," Wade said. "We want to go to another gear, and then another gear. Our next gear will be tuning up for the playoffs. Next gear after that will be playoffs. We know we still have ways we can get better."

Chris Bosh's jumper early in the fourth quarter gave Miami a 20-point lead, and the margin was not seriously threatened again, even though the Heat went nearly four minutes without scoring. Haslem missed a foul-line jumper, three Magic players were unable to corral the rebound, which Wade picked up and dunked with two hands for an 84-66 lead with 3:58 left.

James then sealed it with a turnaround jumper and transition dunk 13 seconds apart.

"We've got a strategy going into a game and we've been executing it both offensively and defensively," James said. "And it's resulting in wins."

NOTES: It was Heat swingman Mike Miller's 32nd birthday. ... The Heat stat crew got a first-half scare, when Davis — listed at 289 pounds — went airborne over the scorers' table. No one was injured, and Davis used the table as a springboard to get back onto the playing surface. ... Clinton got his hands on a deflected ball that bounded over a courtside table in the second quarter, James landed on a pair of young kids sitting courtside in the third, and Wade tumbled atop a baseline cameraman in the fourth. ... Wade left the game in the first quarter to get his left ankle re-taped. ... Grammy winner Chris Brown was in the crowd, as were Miami Marlins players Emilio Bonifacio, Heath Bell and Josh Johnson. Bonifacio took "batting practice" using plastic balls and bats from Heat mascot Burnie during a timeout.