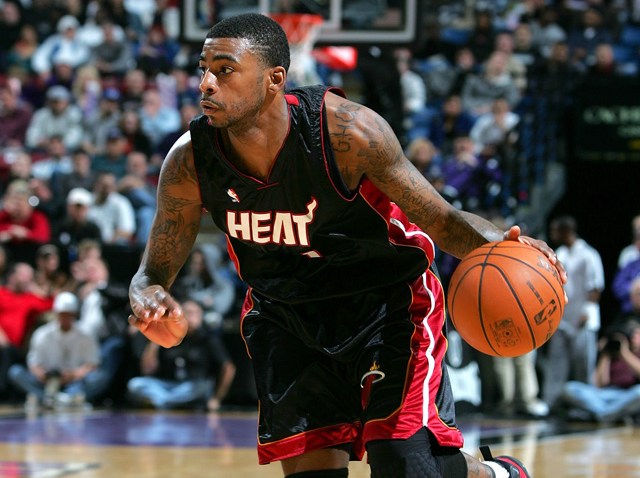 Kevin Love had 17 points and 12 rebounds and the Minnesota Timberwolves took advantage of Dwyane Wade's absence for a rare road victory, 91-88 over the Heat on Tuesday night.
Jonny Flynn added 16 points and three steals for the Timberwolves, who snapped a six-game losing streak and won for just the fifth time in 29 road games this season.
Dorell Wright had a career-high 26 points off the bench to lead the Heat, and Jermaine O'Neal added 18.
Miami played its third straight game without Wade, the All-Star MVP, and starting point guard Rafer Alston. Wade is listed as day-to-day with a strained left calf, while Alston is dealing with a bruised right hand.
They were sorely missed against the lowly Timberwolves (14-44), who have the worst record in the Western Conference.
Miami trailed almost the entire game, except for a small stretch early in the third, and couldn't string together a solid run to overtake Minnesota.
The Heat trailed by as many as 14 in the final period. But Wright scored 11 points in the period, including three 3-pointers, to get the Heat close.
Wright hit a 3-pointer, Quentin Richardson connected on all three of his free throws, and Daequan Cook had a jumper from the left side to make it 87-84.
Michael Beasley's tip-in, and Wright's jumper after a layup by Flynn made it a one-point game with less than 30 seconds left on the clock.
But Wolves rookie Wayne Ellington knocked down both of his free throws, and Cook missed a 3-pointer as time expired to give Minnesota its first victory in Miami since the Kevin Garnett era in 2003.
The Heat got off to a slow start without Wade, shooting 6 of 18 for a season-low 15 points in the first quarter to go down by nine.
Copyright AP - Associated Press