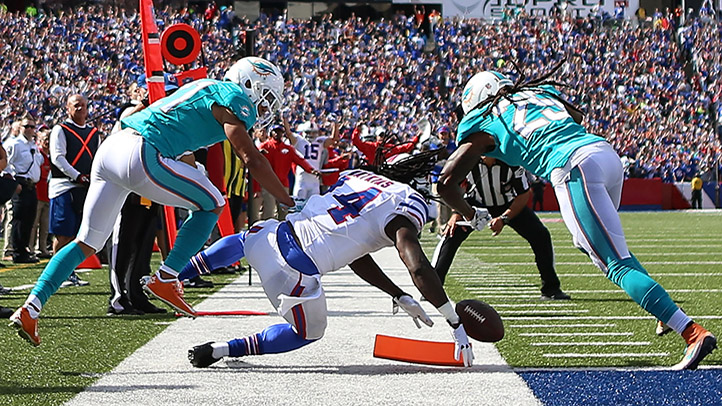 The Miami Dolphins will take the field on Thursday in a crucial game against the Buffalo Bills at Sun Life Stadium.
Both teams are currently sitting at 5-4 on the season and Buffalo holds the tiebreaker coming into the game. When all is said and done, this could be the game that decides if Miami returns to the postseason this year. A win would push the Dolphins one game ahead of the Bills and would also give them a chance to win a possible tied up situation down the line.
Back in the second week of the year, the Dolphins were riding high after a comeback win over New England. The Bills sent them crashing back down however with a demoralizing 29-10 win. It was in that game that the Dolphins also lost Knowshon Moreno to the first of two injuries for him this year. After that loss, Miami would go on to lose its next game as well.
The Bills are coming off a loss in their last game and are 2-2 in the last four overall. Miami entered last week's game riding a three-game win streak but fell in the final minute to the Detroit Lions. The Dolphins had a loss in the final seconds before the win streak as well when the Green Bay Packers stormed back.
Buffalo leads the NFL in sacks with 34 and that could be a tremendous problem for Miami in this game. This will be the first time the Dolphins will be without the services of Branden Albert this year after he tore his MCL and ACL in their previous game. Albert had improved a Miami offensive line that was woeful last year.
Ryan Tannehill has been alternating great starts at least in terms of passer rating over the last six games. In last week's game, the quarterback was not terrible but he also wasn't at his best. Without Albert on the line in front of him and against a tough Buffalo line, this could be a very difficult assignment for Tannehill. In the first game between the two teams this season, Tannehill had a rating of only 73.6.
Thursday's nationally televised game will begin at 8:25 p.m.

The game is officially sold out. It is recommended for fans to arrive to the game early to beat traffic.