Miami Police have arrested a woman after a string of thefts and robberies involving exotic cars and expensive watches.
John Collins, 29, appeared before a judge on Thursday. According to the arrest report, she would target men wearing designer watches.
Collins would approach men who were wearing expensive watches in the Brickell and downtown Miami bar and nightclub areas and offer them rides in rented luxury vehicles, according to the arrest report.
Two of the victims reported that Collins picked up another female suspect a few blocks away and offered the victims a white powder to inhale. The victims lost consciousness only to wake up hours later and notice that their watches were stolen.
Detectives say the string of robberies went on for months, going back to February of this year.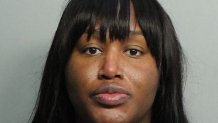 Collins' charges include robbery by sudden snatching, third-degree grand theft, and second-degree grand theft. She is also wanted for multiple cases in the city of Miami.
Police said that she uses identity theft to identify herself. Two IDs were found with legitimate photos but with different names and social security numbers. Her female name is unknown at the moment, according to police.
Detectives believe that there are more victims that have not come forward and believe some of the victims may be from out of town.
[[sot: kiara delva, spokesperson city of miami police department]]
"It's very important for the community to be very mindful and cautious of their surroundings," said Miami Police spokesperson Kiara Delva. "If you're out late at night and you're drinking, make sure you're with friends. Don't get inside of a vehicle if you do not recognize the person."
Anyone with information is urged to contact the Miami Police Department's Burglary Unit at (305) 603-6030. Those with information that wish to remain anonymous may contact Miami-Dade Crime Stoppers at (305) 471-TIPS.