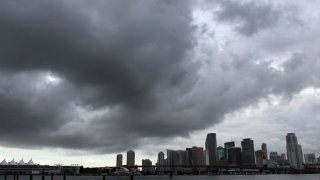 As showers end Friday evening, slightly drier weather conditions will move in to begin the weekend.
More sunshine is expected Saturday with only isolated showers in the local forecast. Much of the shower activity that is triggered will occur late-morning through early afternoon.
As the day goes on, winds will be on the increase, leading to a high risk for rip currents for the remainder of the weekend.
Over the next several days, expect afternoon highs in the upper 80s with morning lows only dropping into the upper 70s.
Warm and breezy weather, with an occasional shower, will continue through the middle of next week.
King tides remain an issue through the weekend with a coastal flood advisory remaining in effect until Monday.