Ruthie Polinsky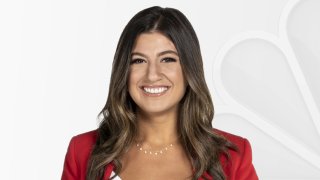 Ruthie Polinsky is an Emmy® Award nominated sportscaster. Polinsky joined NBC 6 in 2020 as a sports anchor on the NBC 6 weekend evening newscasts and as co-anchor of NBC 6 Sports Final on Sunday nights, which broadcast live from the station's Miramar-based studios. Prior to joining NBC 6, Polinsky worked as a Sports Anchor and Reporter at WPRI in Providence, Rhode Island for three years.
Born in Ann Arbor, Michigan and raised in St. Louis, Missouri, Polinsky graduated from the University of Michigan in 2015 and received a dual degree, a Bachelor of Arts in Communications and Drama. It was there that she realized she could combine her love of performance and storytelling with her love of sports. That realization led her to pursue a career in sports broadcasting.
Upon graduation, Polinsky began her on-air broadcast career at KFDX in Wichita Falls, Texas. She was a Weekend Sports Anchor and Reporter for two years before moving to WPRI. While working in New England, Polinsky was able to cover two Super Bowls, a World Series and a Stanley Cup Final, while also following two college basketball teams to the NCAA Tournament.
In 2019, Polinsky received the National Sports Media Association's "Rhode Island Sportscaster of the Year" award. That same year, she also received a National Academy of Television Arts and Science nomination for her feature story about a 15-year-old female boxer named Sierra Martinez.
Polinsky lives in Miami and loves being outdoors and active. She has recently started playing golf and enjoys the South Florida food scene.