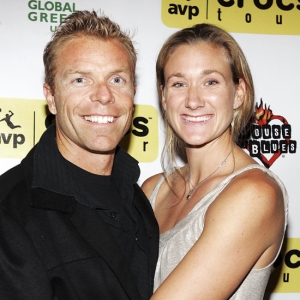 As if delivering her first baby wasn't stressful enough, olympian Kerri Walsh says that her due date brought the unexpected stress of locating her athlete husband, Casey Jennings.
As it turns out, it was a close call for the volleyball-playing dad, who almost missed the birth of his son due to a tournament.
VIEW THE PHOTOS: Hollywood All-Stars! Celebs At Sporting Events
Arriving five minutes prior to Walsh's water breaking, Jennings was just in time to take his wife's side, as the couple welcomed son Joseph Michael Jennings on May 22.
"Casey got home around 5 PM and my water broke around 5:05 and then we went straight to the hospital," Walsh told People. "My husband was a really great coach and little Joey came out at 7:14 PM."
VIEW THE PHOTOS: 2008 Beijing Olympics: Beach Volleyball
With an athletic background — and a body to match — it was hard for Walsh to see the tipping scale.
"Thirty six lbs. is the official number. I just didn't want to hit 40 because that would be 200 lbs. I feel pretty silly now that I see Joey," she added.
Now, less than two months after giving birth, the new mom revealed she's got her priorities straight, reveling in the birth of her beautiful boy and getting back into the game with an intense workout regimen.
VIEW THE PHOTOS: Beijing 2008 Olympics: Opening Ceremonies
Right now, she's facing the tough transition from her post-birth bod.
"It's crazy. A lot dropped in the first week," she said. "Now I just need to build my muscle because I'm skinny soft, which is the worst thing to be."
Walsh plans to make her return to her volleyball career on August 8 at the Hermosa Beach AVP tournament.
Related Content from AccessHollywood.com:
PLAY IT NOW: Kerri Walsh Pregnancy Exclusive, Part I
PLAY IT NOW: Kerri Walsh Pregnancy Exclusive, Part II

MORE ACCESS ON THESE TOPICS: Kerri Walsh - 2008 Beijing Olympics - Pregnancies

Copyright NBCAH - Access Hollywood