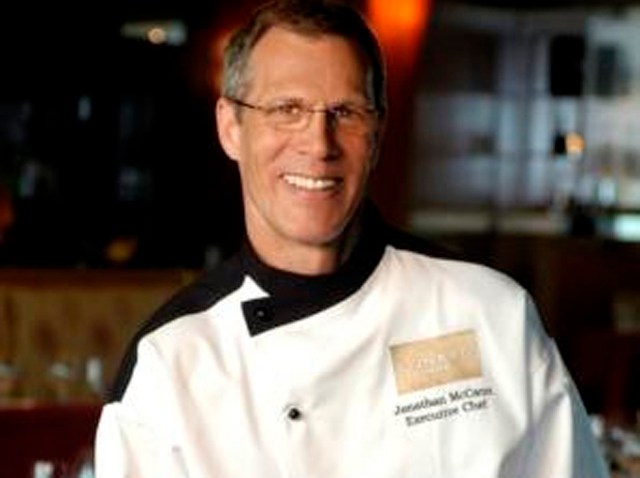 A lot of great things came from the Brits: The Beatles, Elton John, and Simon Cowell (though that last one is debatable). But for Miami, the greatest thing to come out of England is without a doubt Jonathan McCann. The newest Executive Chef for Atrio at the Conrad Hotel, McCann reinvented the resto's menu to include an enticing blend of classic American dishes with twists of English and classic Miami flavors. We'd say he's come a long way from the merchant navy.

I'm sure all the dishes on each of your menus are like your children, but if you had to choose only one dish from the menu, which ones are you most proud of?
The truffled meatloaf with dauphinoise potatoes is a favorite from what I've heard, since every American I've spoken to has said meatloaf is a big thing here.
Most popular item on the menu?
Oh that's an easy one, we've sold a lot of the pan-seared scallops dish with a cream corn risotto.

How would you describe Miami's dining scene?
To be honest, I haven't been out much since I arrived and haven't really gotten to sample it. But from what I've seen, it's just a stockpot of diverse flavors and styles to try, you just have tremendous opportunities as a chef here.

At what point did you realize you were destined to be a chef?
When I was a youngster, what you guys call the merchant marines here, we call the merchant navy at home, I wasn't even working in the kitchen, but I just enjoyed being in the kitchen and watching the chefs. There were two jobs available that I was offered: working on the Auriana [cruise ship] at Southampton as a pool attendant, chasing after the girls, or cooking on the QE2, and in my heart I knew the QE2 was where I was meant to be. It was a tough decision, though.

What are 5 ingredients every home kitchen should have?
Maldon sea salts, pumpkin seed oil, HP Sauce, a strong English Cheddar, and probably a good bottle of wine.

What are 5 utensils every home kitchen should have?
A good wooden spoon, sharp knife, a chopping board, a peeler, and a salad spinner, because I hate wet salad, I just have a thing about that, I hate it.

What is your fondest food-related memory?
When I was in England I worked for The Mansion House, and I had the opportunity to cook for the queen on my birthday, and I wouldn't let anyone know it was my birthday until after the meal. I mean, NOBODY could wish me a happy birthday because of the intense pressure I was under, and I wasn't wished a happy birthday until after everything was done... that's something you never forget, I'll definitely never forget it.

What was the first dish you learned to make?
I learned to make bread first, even though I'm not a baker.

What is your favorite dish to make at home?
Roast beef with Yorkshire pudding, with all the trimmings. It's a traditional English dish, very homey to me, it reminds of home.