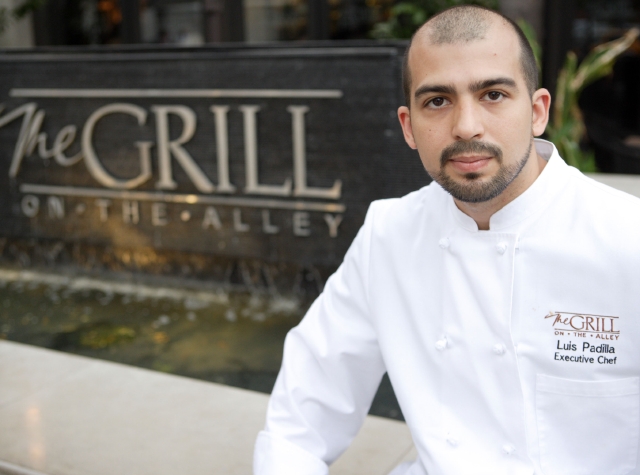 When you think of eating inside of a mall, your mind instantly goes to pizza and China Buffet lines. But then there's the Aventura Mall -- and if there's one thing that the city of Aventura got right, it's their amazing shopping. The food inside doesn't disappoint either, especially not The Grill On The Alley.
The Grill is impressive from the start. From their gorgeous exterior to even more beautiful inside decor, you instantly forget that you're eating at the mall. Not that the food is overshadowed. The Grill offers a timeless American menu of prime steaks, chops, fresh seafood, and classic cocktails paired with uncompromising service. Under the leadership of executive chef Luis Padilla, their food has freshness, quality ingredients and consistency that is hard to compare.
A proud Miamian at heart, Chef Padilla has honed his culinary skills at various Miami restaurants, most notably Mark's Las Olas and Seasons 52. Having impressed everyone from businessmen to 20-something hipsters with fare like calf's liver and mouth-watering mac and cheese, Padilla sat down with us to say what local ingredients we should take advantage of and what wine we should pair with our next steak.
Is there a chef that inspired you to make it your career?
It wasn't so much a particular chef that inspired me, it was the overall feeling of working in a kitchen, the different people, the energy. Then I read Kitchen Confidential, and I just wanted to find out if it was true.

At what point did you realize you were destined to be a chef?
My first job was as a busboy in a restaurant. I remember being so intrigued at how the cooks were always so busy, animated and synchronized. The chef barking out orders, the cooks reacting only to his commands... it was amazing watching them. One day, as I was standing by the kitchen expo window watching the cooks prep and get their mind in place for the night, the manager asked me if I wanted to work in the kitchen. The only thing racing through my mind was, "Here I am, just turned 18 and going to be working in a kitchen." I was stoked. What I learned the next day was all newbies start as dishwashers. Two months later I was on the line making appetizers and salads. It was then that I realized that for the rest of my life when I get up for work... I live to cook and I cook to live.

What would you say is the most popular item on the menu?
It's tough to narrow it down. I am very proud to say that our fresh veal liver with caramelized onions and crispy bacon can't be found anywhere else in South Florida. Or the citrus BBQ cedar salmon with a subtle balance of oak and cedar with fresh salmon and The Grills' signature, from-scratch BBQ sauce brings the best of outdoor grilling and seafood together.

I know you love them all like they are your children, but is there an item on the menu you are really proud of?
The charbroiled halibut, served with a ripe mango salsa, has a light kick of red wine vinegar that brings out the succulent juices of the fish. It is paired with the aftertones of the oaky smoke from the live grill and fresh grilled vegetables and balsamic glaze.

How would you describe Miami's dining scene?
I first thought there wasn't much in Miami other than Italian and Cuban restaurants, but if you travel to South Beach, Downtown, Coral Gables, Surfside and Aventura, there is a true melting pot of flavors all over South Florida. I think more chefs are realizing that and bringing to life a new dining scene that is hip in decor and ambiance and equally satisfying to the palate. In Paris, you go out to eat or to the cafes to "people watch." In Miami it's the opposite, you go out to be seen.

You have been cooking in Miami for a long time. What local ingredients are your favorites to work with?
Honestly, who can resist a ripe Miami mango? One of my earliest memories of food was when my grandmother would gather up coconuts and she would cut the top off and hand it to me with a straw, then she would gut out all the white coconut meat and make the best arroz con coco (coconut rice). And of course the plentiful local fresh fish, red snapper, pompano, dolphin, blackfin tuna, wahoo and grouper. Anyone else feeling hungry?

If you had to choose your last meal, what would it be?
I am a simple, humble person when it comes to food. It is such a tough question... although I am craving short rib and truffle-stuffed raviolis with a Barolo reduction sauce and wild mushroom and carrot ragout. Oh and yes, fresh grated Parmesan cheese with that.

The Grill's wine list is as impressive as your food menu. What wine is perfect to match with a nice steak or seafood?
Actually I just had dinner here with some friends, and a Petite Filet Au Poivre paired very nicely with a Duckhorn 2007 Migration Pinot Noir.

What are 5 ingredients every kitchen should have?
Kosher salt, whole black pepper, eggs, flour and vinegar.

What are 5 utensils every kitchen should have?
Wooden spoons, whisks, rubber spatula, a chef knife and a wooden big block cutting board.

What is the first dish you learned to make?
It was either lasagna with my mom or arrozo con coco with my grandmother. I loved going over to my grandmother's house because we would start making the arrozo con coco and then I would tell my mom that I couldn't leave and I would have to spend the night so I could eat it in the morning. Worked every time!

Do you have a favorite dish to make at home?
I like trying new things at home, yet I can never resist a good ol' sandwich at home. Black Forest ham, Vermont sharp cheddar (sliced thin), tomatoes (sliced thin), mixed greens, olive oil, balsamic, salt and fresh cracked pepper. A little extra drizzle of oil on the bread, and then I turn my Cuisinart panini press on high, sprinkle a good amount of grated Parmesan on the bread and put in the press. All the Parmesan bakes right into the bread and helps make the best Parmesan crusted ham sandwich, paired with an ice cold Newcastle and salt and vinegar potato chips. Yes, that's what is for lunch at my place today!