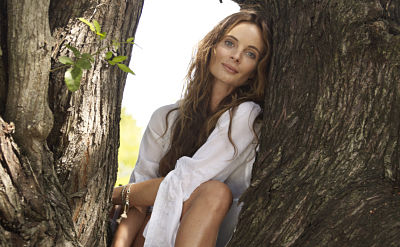 She's the gun-toting, explosives expert on Burn Notice; the kinda gal who shoots (or bombs) first and supplies answers later. She's also a bona fide knockout. On Thursday night you can catch her and the crew opening Season Five of the USA Network's hit show. Come Saturday night however, Miami's most-fetching lethal weapon will be handling the auction-side of the 17th Annual InterContinental Miami Make-A-Wish Ball. She is of course Gabrielle Anwar, and we insist that to miss one is to miss it all.

Word is you'll be handling the gavel at this year's Make-A-Wish ball -- that so? I don't suppose they'll allow me to actually handle the gavel, I'm more accustomed to handling a semi automatic. I'm not sure which is the more effective way to encourage the big spenders.

Will this be your first time presiding in such a capacity? I have only recently become involved with Make-A-Wish. And I'm flattered to have been asked to participate.

How'd you get the honors anyway? I'm sleeping with the Chairman [Shareef Malnik].

Did you have anything to do with this year's decision to pay tribute to Truman Capote's legendary Black and White Ball? Maxwell Blanford is the creative force behind such whimsy. I find the whole concept of Capote's spurning high society rather ingenious and am quite happy to re-enact the stylish snub of elitistism.

What about with bringing in the legendary Joan Jett and the Blackhearts? Joan Jett is the perfect compliment to the enfant terrible inspired theme for a ball!

Make-A-Wish won't be the only highlight of your week, will it? The Make-A-Wish Ball will be a delicious dessert, after a Burn Notice entrée on Thursday night.

So, black-and-blue to black-and-white? Hopefully less of the former.

17th Annual InterContinental Miami Make-A-Wish Ball takes place Saturday November 5th. For more information log on here.