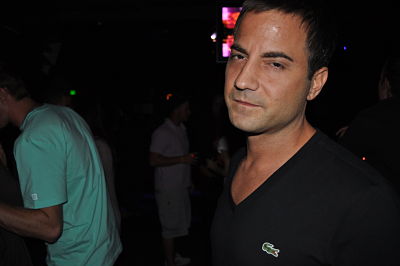 Imagine if every night of your life you got to hang out in a handful of some of South Beach's hottest clubs. Now imagine if you were responsible for bringing in the action that helped make each of those clubs hot in the first place. If you were Carlos Correal, that would be your job. Niteside got the Opium Group's Director of Marketing to tell us what's what this New Year's Eve. And with Little Lupe, Nicki Minaj and Lil Jon among the festivities, it's gonna be a wild night indeed.

What does The Opium Group's Director of Marketing do? On the most basic level, I oversee the booking and performances of more than 600 acts at our venues annually, including Bob Sinclar, David Guetta, and Afrojack. This includes all areas of promotion, production and marketing of our events.

The Opium Group has a rather extensive lineup for New Year's Eve, so let's take the haps one-by-one. At Mansion we have Nicki Minaj's "All Pink Everything" New Year's Eve 2011, complete with pink décor, Harajuku Barbie dancers, pink Corvettes, and a countdown by Nicki Minaj.

At Cameo, we'll be raising our pimp cup to New Year's Eve 2011 as Lil Jon rings in a New Year with Playboy. Blinged-out dancers, a bevy of beauties and a raucous DJ set by Lil Jon himself.

At SET, Don't Tell My Booker takes over for a night of sexy house, high fashion, and glamour. This is an iconic brand, which started as a one-night-only event during Paris Fashion Week and has since transformed into an international sensation.

At Mokai, we're ringing in 2011 with decadent 40's era B-movie glam. Black and white personalized photography, vintage cars, model DJs and a midnight light show.

At Opium Hard Rock, it's porn sensation Little Lupe Fuentes and friends. Little Lupe's best known for her segments on Howard Stern, and she is going to be joined by lingerie clad dancers, a midnight stage show and lots of sexy surprises.

Of all that action, is there one that you're particularly excited about? Musically, I'm really excited to see Lil Jon at Cameo -- he's such a talent on the turntables and no one loves a Playboy party like Miami does, so I'm expecting to see a lot of eye candy.

Where will you be on New Year's Eve? I'll be at Don't Tell My Booker at midnight -- it's one of my favorite annual parties hosted by my good friend Stevie B from Montreal, and it's also a great place to hear house music on New Year's Eve in the most beautiful upscale venue in Miami Beach.