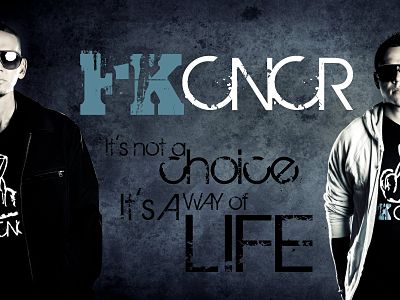 Okay, so maybe the acronym means more than a mere profanity. But it's a fitting expletive all the same. Why? Because cancer is a cussing matter, that's why. Just ask Lazaro Hernandez and Carlos Sequeira, the founders of the nonprofit called FKCNCR. Saturday night they and a buncha their friends are taking to The Stage to raise funds for the fight. We wholeheartedly hope that you will all be there.

For those who don't yet know, what's FKCNCR? Fighting and Killing Cancer is a non-profit organization designed to collect donations and raise funding for research that assists other organizations, as well as to help those families both local and foreign who are struggling with surviving, not only as victims of the disease, but those that risk losing their homes, vehicles, etc as a result of treatment and the overwhelming cost of Cancer survival.

FKCNCR is having an event Saturday night right? Yep. We're hosting a large fundraiser this Saturday (June 4) at The Stage. We'll have a live DJ (DJ Ethics), as well as a live band (Suenalo), and both are amazing. Some other items on the agenda include a fashion show, a silent auction and the FKCNCR t-shirt/jewelery sales.

Who's slated to benefit from the proceeds? The proceeds collected at this event will be divided into two parts: half will go to Miami Children's Hospital, and half will go to a family in need of funds to sustain themselves while going through this difficult journey of treatments, surgeries, and overall Cancer.

Is this the first time FKCNCR has stepped up on behalf of Miami Children's Hospital? Yes, this will be the first time we've decided to give proceeds to Miami Children's Hospital, however we raised money at a recent fundraiser in conjunction with Non-Stop Crossfit to benefit St. Jude's Children's Hospital. The event was a huge success and we continue to look forward to being able to make a difference for the children struggling with this disease.

Who else is FKCNCR set on aiding in the fight? In addition to providing donations to childhood Cancer foundations such as St. Jude's Children's Hospital and Miami Children's Hospital, FKCNCR also plans to focus fundraising efforts toward groups such as the Susan G. Komen Cancer Foundation, American Cancer Association and The Leukemia and Lymphoma Society (which personally affects us as a result of [FKCNCR partner] Carlos Sequeira's illness).

Besides showing up on Saturday night and supporting the above, what else can people do to get involved? If you are unable to attend the FKCNCR Fundraiser on June 4th, you have the option of purchasing a ticket as a donation. The tickets are $20 and can be purchased online at our site. If you are attending the event, we will be hosting a silent auction, selling FKCNCR t-shirts, jewelry and accepting cash donations throughout the night.
A Donations page has also now been added to our website, and t-shirts and jewelry will be on sale there after the event as well. These items can also be purchased at MinaMiamiBeach. We are counting on the support of all of the community who can relate with such an experience and turn a negative into a positive by being part of something special. Let's make a difference together!
FKCNCR Saturday June 4 7pm at The Stage 170 Northeast 38th Street Miami. For more information call (305) 576-9577 or log on here.