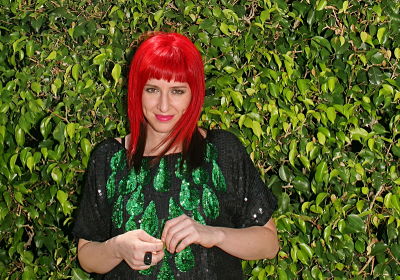 You could call Lolo Reskin a Renaissance chick, but even then you'd only be half right. Yes, she the High Priestess of our beloved Sweat Records. Yes, she's boothed-up every Friday night at Vagabond. And yes, she's serving (or had served) on some of the City of Miami's most prestigious boards. But none of that relays the impact Lolo Reskin has on our town -- be it as a concert promoter, events coordinator or all-around local advocate. On Saturday, Sweat is celebrating its fifth birthday with a block party called Sweatstock. Niteside got with the groovy gal so she could give you the goods.

A big congratulations on Sweat's fifth anniversary. What are some of the lowlights and highlights of the past half decade? Too many highlights to remember! There have been so many great events -- the Iggy party at Awarehouse, The Evens at Sweat No. 1, the Electroma premiere, Battles and El-P at Studio A, Matt & Kim at the Upper Eastside Garden, Presets/Crystal Castles at Churchill's, Glass Candy and all the fun shows at Vagabond [and] all the way back to our grand opening party complete with bounce house. The lowlights are pretty obvious -- getting robbed, losing our first location to a force of nature -- but we've learned from everything and grown.
Your grandmparents were both accomplished classical musicians. Your grandfather, Alan Reskin, opened the fabled Allegro Music House in the Gables in '61. Did you grow up hangin' around the Music House, and, if so, what valuable lessons did granddad teach you? They actually sold Allegro before I arrived, but I did spend my childhood tagging along to gigs with my dad, who's a working professional trumpet player. He'd get comp tickets or make friends with the ushers and sneak me in to symphonies, the opera, musicals, salsa gigs, renaissance fairs, anything. My grandfather Alan was a character and he taught me a lot -- manners, the importance of impeccable grammar, the elegance of Edith Piaf's voice. ... I miss my grandparents and wish they were around to see what I've been up to, but I know they'd be proud.
To mark your fifth anniversary -- and the coincident Independent Record Store Day -- Sweat's taking over the block with Sweatstock. Can you please fill us in on all the juicy details? Sweatstock is a free, all-day, all-ages block party this Saturday, April 17. We're using some of our Knight Grant funds to provide a free concert by LA's No Age with the best local bands playing all day long and Miami's best DJs spinning inside the store. There will be food, cupcakes, a huge toy giveaway by FriendsWithYou, and there are even more awesome bands playing later on at Churchill's, too.
Sweat's much more than a record store. It's also a live venue, screening room, coffee house and all around neighborhood hangout. What are some upcoming events that we should all know about? Up next we're bringing the Animal Collective film "ODDSAC" for a Miami premiere and the filmmaker and band are going to come down for a Q&A with it so we're beyond excited for that. Our main signature events are Casa De Ha-Ha, a stand-up comedy showcase hosted by my brother Daniel every second Tuesday, and Pure Imagination Live, a storytelling event with live music, which is about every six weeks. We've started doing vegan potlucks before those and have been getting a great response. We have in-stores constantly and the list of what's coming up is always up on the events page on our website.
In addition to co-running the record store, you spin every Friday night at The Vagabond. What can folks expect to hear when you're in the booth? On Fridays I play mainly indie classics, electro-pop and of course newness. I also love playing local tracks and think more DJs need to make the effort to do so now that there's so much more good music coming out of here. I like to start a bit chill and work the crowd's energy level up, which perhaps comes from my background in yoga. Even back to my Revolver days I always preferred the opening set of the night -- there's a lot more freedom there, musically, than when you spin for a dancefloor. My DJing philosophy has always been that song selection trumps mixing prowess every time, but I still make sure my sets have a sense of flow. To me, spinning vinyl is old school, and using a laptop is new school. I still like making mixes and spinning on CDs so you could say I'm middle school.
Since you're behind the counter and behind the decks, you've gotta have a lead on all that's hot and poppin' in music. What are some of the current hottest records out there right now? I love The Shins so the "Broken Bells" album has been on repeat for a while. Also in rotation have been Gonjasufi, The HotRats -- 2/3 of Supergrass playing awesome covers -- Gorillaz, Phantogram, Hot Chip. ... Locally there's so much good stuff -- Plains, Black Bobby, Panic Bomber, ANR, Afrobeta, etc., etc., etc.
You're also incredibly civic-minded -- sitting on the City of Miami Arts & Entertainment Council and formerly serving on the Florida Chapter Board of the Recording Academy. How has your public works influenced your career and what do you tell young folks who desire to be similarly engaged? Being on those boards is an honor and it's certainly an insight as to the workings of the City and the Academy, but I get so much more done in my own independent endeavors. For anyone looking to start on a project/mission/objective, the best advice I can give is to stop talking and go do the damn thing. Back in 2005, even though I'd been telling them for months, some people didn't believe I was actually going to open a record store until I handed them a flier with an address on it and said, "Show up here on this date. There is going to be a record store."
Speaking of engaged, Miamians -- especially many of the younger set -- seem to have broadened their horizons beyond the standard party-all-night philosophy our town is mostly known for. Do you see a more forthright trend among twenty- and thirty-somethings, and what are some of the best examples being set? There is so much positive stuff happening in Miami, it's unbelievable. Our bike scene is exploding and my good friend Collin Worth is one of the main people you can thank. He's the city's Bike Commissioner and has spearheaded so many incredible bike-related initiatives including Bike Miami Days which is happening again next week. I'm an unabashed fan of marine biology art collective Morphologic and everything they're doing, from music blogging to HD videos to discovering new species. ... All around though, there are more indie bands, indie labels, indie promoters, funky food trucks, more venues happening, more national bands touring through here, more vegetarian and vegan restaurants, more random art happenings and tons of other signs of progress.
On the odd night that you do get some time off, where do you most like to hang out? My favorite escape is going to free yoga at Bayfront Park. I try to get down there at least once a week. I love The Standard, spending time tending my garden, hanging out with my wonderful friends, going to Gallery Walk and of course shows and concerts. Even though I'm at work when I'm there I still love being at The Vagabond every Friday and couldn't ask for a better team of people to work with.
What's coming up for Lolo Reskin? Lots. To continue my mission to have Sweat running as tightly as possible, to launch our online store/mail-order empire, to release a bunch of insanely great 7" records by local artists, and I am still working on plans to open a late-night vegan diner in the next year or so.