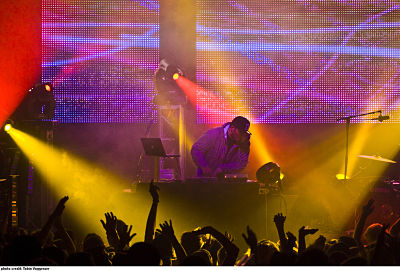 In case you haven't noticed, there's a riot goin' on in Miami this week, a riot of sound and vision so spectacular our town may never recover. Part of that riot is Pretty Lights, who'll be shining his brightness at The Fillmore tomorrow night. The Colorado-based producer, who's tricked the likes of Kanye and sold out from coast to coast, calls what he does "electro organic cutting-edge party rocking beats." We simply call it "wow."

First off, why the name Pretty Lights? Seems kinda weird for a producer name when you first hear it, right? It was never really intended to be MY name, it was more intended to be the name of my musical "project," which I always envisioned would change and evolve with my aesthetic vision. Pretty Lights to me represents not an idea, but a way of thinking. It doesn't matter where I am or what I'm doing, I'm always on the lookout for something beautiful...or dope, or ironic, or disturbing...anything that stands out and inspires and is a sort of microcosm for something greater. Like the way a sidewalk cracks, or the way a thin ray of sun shines through a puff of smoke in a dark room...sh-t like that.

There's a clip of your NYE show at The Congress in Chicago that is positively bursting with visuals -- can Fillmore-goers expect an equally resounding night of kaleidescopics? The show never stops evolving...and of course I'd never skimp on Miami. I opted out of playing Ultra specifically so I could put on a full Pretty Lights show. There's no way I could have pulled off the scope of my show production at Ultra, so I decided to throw my own party and do it proper.

What else can fans expect Thursday night? Four hours of nonstop freshness. Michal Menert and Paper Diamond are killing it.

Why did you decide to launch your spring tour in MIA anyway? Well it's quite complex actually... I discovered that if I convert the seven universal truths into a sequence of numbers using an ancient druid planetary algorithm I can juxtapose that sequence against a musical staff and play the sequence as a melody. I have reason to believe that if this melody is played loud enough at the moment that our planet aligns with the three stars of ultimate enlightenment from a precise location, the skies will open and a massive focused synchronicity beam will shine down and reveal to all mankind what exactly makes a motherf-cker so damn fresh. Ha. I don't know, it just worked out.

Anything you wanna say to the dance fans out there before we go-go? YES. If you have any desire at all to be enlightened by a galactic synchronicity beam of freshness, or to rock out to the hottest electro hiphop soul beats out, come to this party.
Pretty Lights March 24 7pm Fillmore Miami Beach 1700 Washington Avenue South Beach For more information call (305) 673-7300 or log on here.