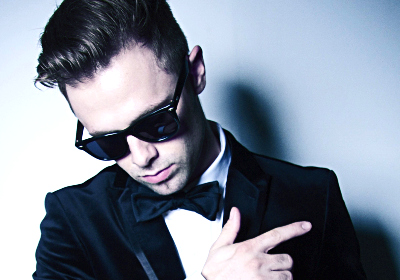 By this point, most everyone has either been to an Overthrow event or laid ears on an Overthrow DJ. And chances are you were lured there by the graphic fantastic and overall aesthetics of one Caleb Gauge. Recently, the ATL-born Gauge moved down to the MIA and joined Sam Baum and Alexis Mincolla as one of the leaders of the Overthrow Gang. So Niteside decided to get his side of the sordid story.

Back in '09 you joined Overthrow, one of the most notorious party gangs in Miami. How'd that come about? Lex (Alexis Mincolla) and I became acquainted in 2008 through similar esoteric interest. Then both of our girlfriends happened to be roommates in Miami. But it was actually Obi (Damaged Goods) who convinced me to partner with Overthrow during a DJ gig I booked him for in Atlanta.

You're still quite active in the ATL; in fact, you're kinda like Overthrow's point-man in that town. What all are you overseeing up there? Essentially all my Atlanta entertainment operations have been merged under Overthrow. Aside from various artist-related one-offs each month, I produce a monthly dance riot called Sloppy Seconds ... and in the next edition (Aug 14) we're formally showcasing Overthrow's starting line-up of creatives and DJs. I'm also the marketing director of Atlanta's fabled subterranean discotheque, MJQ Concourse.

Speaking of overseeing, you oversee the marketing and design elements of all Overthrow events. What exactly does that entail? You know those warnings that say "Due to the graphic nature of this program viewer discretion is advised"? I'm the Overthrow program designer, and that was a warning.

You also oversee the same elements of various Overthrow gang members' careers. Care to elaborate? The same gonzo-style brand strategy I use for Overthrow is implemented to the artist inside the collective, on a more personal level of course, called Human Brand Development. I can't disclose further details but will say we just added Atlanta's phenom producer/DJ Daniel Disaster (aka Heroes+Villains) and Miami's production duo, Caligula, to the army.

This weekend, Overthrow has not one but two parties goin' down. Details please. On the beach, we have Misfit Fridays at Louis featuring Fools Gold's Congorock; then Saturday is our self-titled "Overthrow" monthly at Downtown's Grand Central featuring the alter egos of Roctakon & Ross One. That same day, we're also co-producing the Atlanta Indie Music Festival.

What other regular parties are on the Overthrow agenda? Our newest night-project, PsychoRAMA, is mk-ultra approved: each month at BAR, Overthrow produces an uber mental audio/video installation with no rules, no cover, and no bull----.

What about Overthrow, the brand. Any other pending ventures you care to tip us off to? Next up is Overthrow's 2.0 website launch with an arsenal a new tricks. This fall is the first Overthrow America tour and a unique nu-media project between Overthrow and Tamara Sky. ... We're also launching a small cut-and-sew collaborative collection with Miami's Last Rights during this year's Fall/Winter season and Spring 2011 will see the birth of Overthrow Records.

With all this action, surely you've considered the brand. If Overthrow could be summed up in a sentence, what would it be? Overthrow the status quo with an army of rogue creation.