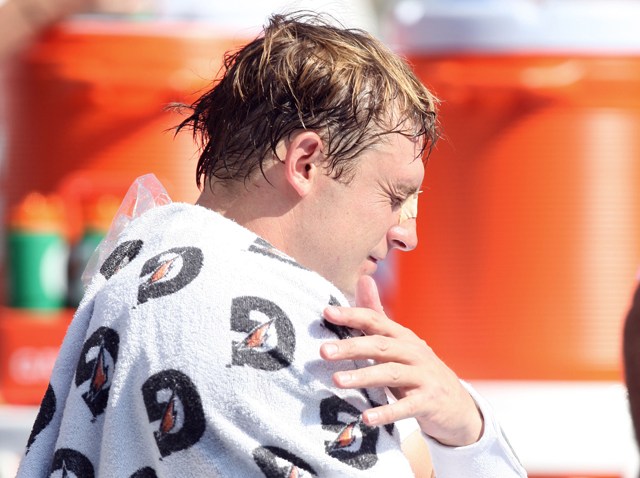 Counting Chad Pennington out is a losing proposition. He's won the NFL Comeback Player of the Year twice.
If he wins it a third time, it shouldn't be with the Miami Dolphins.
The Miami Herald reported Thursday that Pennington wants to rejoin the team, even as a back up to entrenched starter Chad Henne. That's a noble gesture for a man who has started and led teams to playoffs, but one the Dolphins should politely and respectfully decline.
First, it already looks like Henne has a pretty capable back up in Tyler Thigpen, who was acquired in the middle of the season when Pennington injured his shoulder. Thigpen showed what he could do in the team's final game against Pittsburgh when Henne and Pat White were knocked out during the game.
And for as much as Dolfans love Pennington for his determination and heart, there comes a point when a player suffers one too many injuries. It's worse when it's the same injury over and over again.
Pennington's right shoulder injury has transformed his arm from the bombs away style with Randy Moss in college to that of a Little League underhand softball player. The truth is he can't make the all throws, which handcuffed the Dolphins offense and gave birth to the Wildcat.
And Pennington's presence could undermine a developing Henne's confidence in the event he struggles, which Henne did at times during the season. Pennington could offer great advice and tutelage for Henne, as he did last season, but if he wants that role, the Dolphins should hire him as a position coach.
No one likes to look over their shoulder. Pennington only needs to ask himself that.