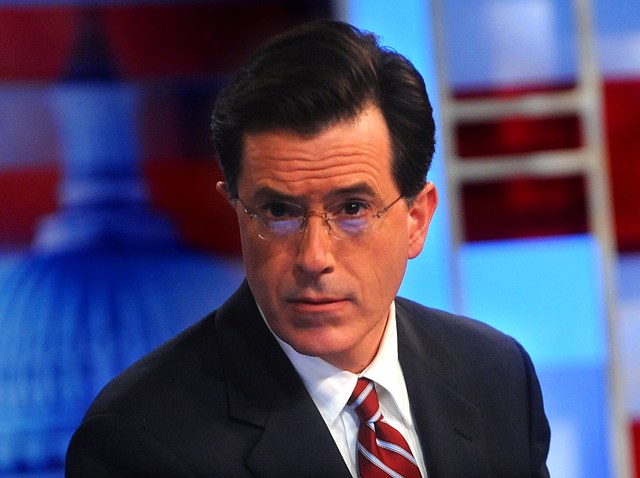 Stephen Colbert, the stone-faced host of Comedy Central's politispoof "The Colbert Report," gets a lot of things named after him. So much so that one competitive celebrity climbed a wind turbine in Texas just so one would be named after her first.
"It seems like every time I watch 'The Colbert Report,' he's having something named after him," race car driver Leilaini Munter told emagazine.com. "I was like, ha! I beat him to one thing. He may have all the animals on the earth named for him, but he doesn't have a wind turbine."
That's what you think, lady!
Key West High School dedicated its Colbert Wind Turbine in a ribbon cutting ceremony yesterday, a name approved by the Monroe County School Board in a unanimous vote after a suggestion from senior Heindrick Allen. And Colbert's energy mill isn't just any old random wind turbine (we're looking at you, Munter!), but the first high school-based turbine in America and the southernmost turbine in the contiguous 48 States.
The 53-foot high pinwheel, built with a $20,000 grant from the Florida Green Alliance, is part of the school's Alternative Energy Center started by physics teacher Josh Clearman. The Center already houses a project to produce biodiesel fuel from donated grease.
Naturally, the turbine's name was suggested in hopes that Colbert himself might attend yesterday's ribbon-cutting, providing the Center a little attention for its efforts.
Sadly for Allen, who tried his best, the mission to get Colbert on a plane didn't quite work out (even though he does have one named for him, along with a falcon, an elephant seal, a diving beetle, and an ice cream flavor, Ben & Jerry's AmeriCone Dream).
Colbert may not have attended to see his turbine crank up, and has yet to mention it on-air, but he did acknowledge the project in the form of a letter encouraging Allen to "stay strong."
No doubt he's blown away by the honor.