Police arrested a man who they said randomly stabbed another man at a Pembroke Pines gas station moments after he was caught on camera burglarizing a nearby restaurant early Tuesday.
Police said the burglary took place before 1:30 a.m. at the Sergio's restaurant located at 13620 Pines Boulevard, where surveillance video captured the suspect, later identified as 26-year-old Alex Feldbauer, breaking in.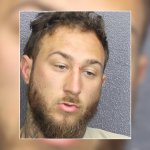 Around 1:45 a.m., officers responded to a nearby Shell gas station after a man had been stabbed in the back by Feldbauer without provocation while tending to his vehicle, police said. The victim, who was not identified, was transported to a nearby hospital with non-life threatening injuries.
Stay informed about local news and weather. Get the NBC 6 South Florida app for iOS or Android and pick your alerts.
Feldbauer fled the scene but officers were able to find him shortly before 4:30 a.m. while responding to calls of a separate incident at an apartment complex.
Feldbauer is charged with aggravated battery with a deadly weapon and commercial burglary.