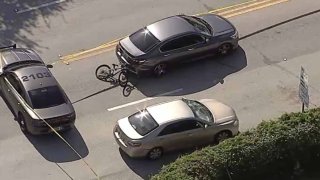 A teen bicyclist was hospitalized after being struck by a car in northwest Miami-Dade Wednesday morning.
The incident happened in the area of Northwest 88th Street and N. Miami Avenue in El Portal.
Footage from the scene showed a bicycle in the roadway not far from a car that had a smashed windshield.
Miami-Dade Fire Rescue officials confirmed that a pediatric patient was taken to a local trauma center from the scene.
El Portal Police officials said the teen was in stable condition, and the crash was under investigation.
No other information was immediately known.
Check back with NBC 6 for updates.