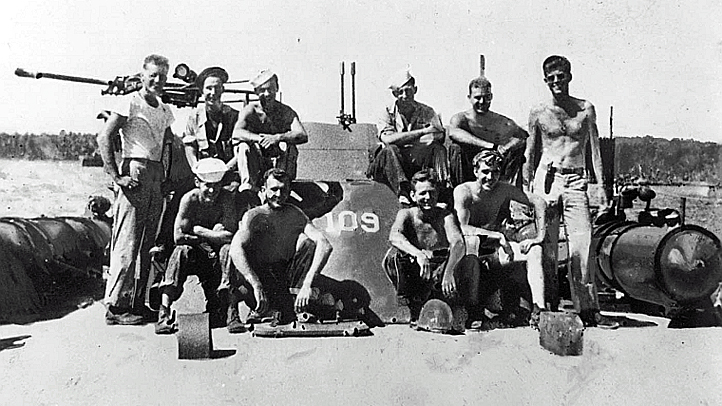 Today's Highlight in History:

On Aug. 2, 1943, during World War II, U.S. Navy boat PT-109, commanded by Lt. John F. Kennedy, sank after being rammed in the middle of the night by the Japanese destroyer Amagiri off the Solomon Islands. Two crew members were killed; Kennedy led the survivors to nearby islands until they could be rescued.

On this date:

In 1776, members of the Continental Congress began attaching their signatures to the Declaration of Independence.

In 1862, the Ambulance Corps for the Army of the Potomac was created at the order of Maj. Gen. George McClellan during the Civil War.

In 1876, frontiersman "Wild Bill" Hickok was shot and killed while playing poker at a saloon in Deadwood, Dakota Territory, by Jack McCall, who was later hanged.

In 1909, the original Lincoln "wheat" penny first went into circulation, replacing the "Indian Head" cent.

In 1922, Alexander Graham Bell, generally regarded as the inventor of the telephone, died in Nova Scotia, Canada, at age 75.

In 1923, the 29th president of the United States, Warren G. Harding, died in San Francisco; Vice President Calvin Coolidge became president.

In 1934, German President Paul von Hindenburg died, paving the way for Adolf Hitler's complete takeover.

In 1945, President Harry S. Truman, Soviet leader Josef Stalin and British Prime Minister Clement Attlee concluded the Potsdam conference.

In 1964, the destroyer USS Maddox suffered light damage from North Vietnamese patrol torpedo boats in the Gulf of Tonkin.

In 1974, former White House counsel John W. Dean III was sentenced to one to four years in prison for obstruction of justice in the Watergate coverup. (Dean ended up serving four months.)

In 1985, 135 people were killed when a Delta Air Lines jetliner crashed while attempting to land at Dallas-Fort Worth International Airport.

In 1990, Iraq invaded Kuwait, seizing control of the oil-rich emirate. (The Iraqis were later driven out in Operation Desert Storm.)

Ten years ago: Saddam Hussein's two elder sons and a grandson were buried as martyrs near the deposed Iraqi leader's hometown of Tikrit, where insurgents afterward attacked U.S. troops with three remote-controlled bombs. Liberian President Charles Taylor agreed to cede power.

Five years ago: Police in southern Afghanistan reported a bus carrying a wedding party had struck a mine, killing 10 people, including the bride and groom; meanwhile, two French humanitarian aid workers kidnapped on July 18 were released.

One year ago: Kofi Annan resigned as peace envoy to Syria, issuing a blistering critique of world powers. Gabby Douglas became the third American in a row to win gymnastics' biggest prize when she claimed the all-around Olympic title; Michael Phelps added to his medal collection with his first individual gold medal of the London Games in the 200-meter individual medley.

Today's Birthdays: Former Sen. Paul Laxalt, R-Nev., is 91. Actor Peter O'Toole is 81. Rock musician Garth Hudson (The Band) is 76. Movie director Wes Craven is 74. Singer Kathy Lennon (The Lennon Sisters) is 70. Actor Max Wright is 70. Actress Joanna Cassidy is 68. Actress Kathryn Harrold is 63. Actor Butch Patrick ("The Munsters") is 60. Singer Mojo Nixon is 56. Actress Victoria Jackson is 54. Actress Apollonia is 54. Actress Cynthia Stevenson is 51. Actress Mary-Louise Parker is 49. Rock musician John Stanier is 45. Writer-actor-director Kevin Smith is 43. Actor Sam Worthington is 37. Figure skater Michael Weiss is 37. Actor Edward Furlong is 36. Rock musician Devon Glenn is 33. Actress Hallie Eisenberg is 21.

Thought for Today: "The trouble with this country is that there are too many people going about saying, 'The trouble with this country is...'" — Sinclair Lewis, American author (1885-1951).
Copyright AP - Associated Press