Thousands in Anaheim lost power amid an outage that affected hotels and, briefly, Disneyland Wednesday evening, Anaheim Public Utilities confirmed.
During the outage, firefighters received at least five calls reporting people trapped in elevators at hotels, including the Anaheim Carriage Inn, Anaheim Desert Inn, Best Western and Hyatt.
Riders also reported getting stuck on Disneyland attractions during the brief outage because park attendees had to reset the rides.
"Everything just went black," said park visitor Jo Beard. "We stuck it out."
The power outage, which also knocked out power to stop lights near the Disneyland park, was affecting areas near Anaheim Boulevard and Katella Avenue, as well as near Harbor Boulevard and Katella Avenue.
Top News Photos: Police Find 39 Bodies in a Truck, More
Anaheim Public Utilities reported that 4,400 customers were without power, and the Disneyland parks initially experienced the outage before backup generators kicked in.
The outage lasted for about 40 minutes to all other areas surrounding the park. An animal "interacted" with a transformer, causing the outage, Anaheim Public Utilities Melissa Seifen said.
The Park Vue Inn, about two blocks from the Disneyland Resort, reported that it lost all power around 9 p.m. The Anaheim Marriott, located at 700 Convention Way, also confirmed it lost power.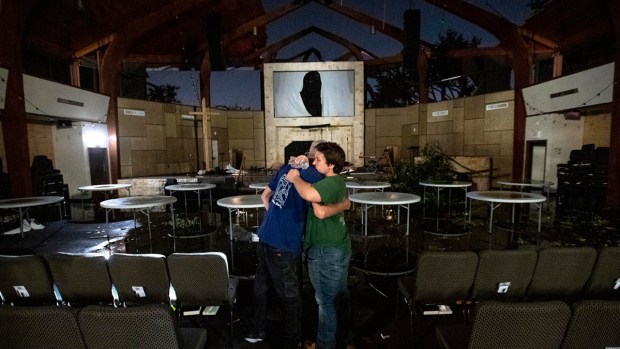 Extreme Weather Photos: Twister Touches Down on North Texas
The Disneyland Hotel was not affected by the outage, a desk worker reported.
Disney's Suzi Brown confirmed that power dipped during the outage. A majority of rides and attractions were not affected by the loss of power, Brown said. Those affected were being reset.
Park-goers posted photos to social media when the dip at the park occurred.
The night all the power went out @Disneyland. Just emergency lights here for a bit. Anyone else here at #Disneyland? pic.twitter.com/lOSLK5KMMS

— Alana Yarbrough (@reachalana) August 4, 2016
When Disneyland has a blackout. 🙃 pic.twitter.com/GdnF9WBdd7

— Francis Dominic (@frncissdominc) August 4, 2016
Power surge reset lockers. Now nobody can get in to retrieve stuff because computers. pic.twitter.com/jr9Ox7pVD0

— bd. smith (@b1205) August 4, 2016
Power was slowly restored to several areas at 9:20 p.m.
Disneyland park attendees also voiced frustration about the cancellation of the iconic fireworks show, but Brown said it was canceled due to wind concerns, and had nothing to do with the outage.