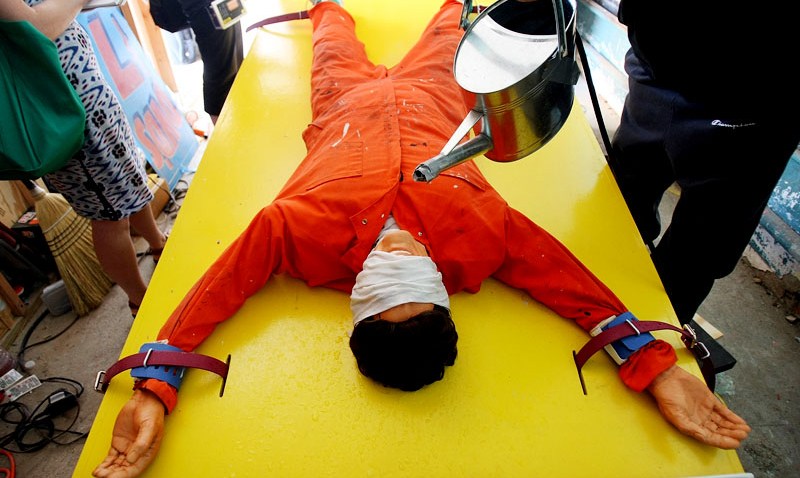 A newly released document shows military advisors warned as early as 2002 that "torture" would produce "unreliable information" and could be used by enemies to justify harsh tactics against American prisoners of war, the Washington Post reported.
The July 2002 document written by the military's Joint Personal Recovery Agency was sent to the Pentagon's top lawyer but it was unclear if the advise reached the highest levels of President George W. Bush's administration, according to the Washinton Post.
"The unintended consequence of a US policy that provides for the torture of prisoners is that it could be used by our adversaries as justification for the torture of captured US personnel," the document attached to a JPRA memorandum, stated.
The Post said segments of the attachment that it had obtained in full were also included in a Senate report on harsh interrogation, which was released this week.
The unsigned two-page document was forwarded to the Pentagon's Office of the General Counsel. The Pentagon then sent it to the CIA's acting general counsel, John A. Rizzo, and the U.S. Justice Department.
Daniel Baumgartner, JPRA's chief of staff in 2002, said the agency "sent a lot of cautionary notes" regarding torture and harsh techniques of prisoners.
"What the administration decided to do or not to do was up to the guys dealing with offensive prisoner operations," said Baumgartner, in a phone interview with The Post.
"A subject in pain may provide an answer, any answer, or many answers in order to get the pain to stop," the document stated.
"The application of extreme physical and/or psychological duress (torture) has some serious operational deficits, most notably the potential to result in unreliable information," said the document. The word "extreme" is underlined.
This document was included among other July 2002 memorandums that described severe techniques used against Americans in past conflicts.
However, in Aug. 1, 2002, a memo from the Justice Department's Office of Legal Counsel gave the okay to use 10 methods to Abu Zubadia, an al-Qaeda associate, who was captured in Pakistan March 2002.
Torture has been a hot topic ever since the war on terror began in 2002 and prisoners were sent to Guantanamo Bay.
Earlier this week former vice president, Dick Cheney, said that waterboarding 9/11 mastermind Khalid Shaikh Mohammed 183 times was a "success." Cheney complained that President Barack Obama has declassified U.S. Department of Justice memos on torture, without giving equal time to the interrogation's successes.