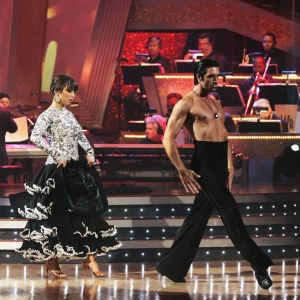 After weeks of struggle in the ballroom, Gilles Marini and Cheryl Burke returned to the top of the leaderboard on Monday night's "Dancing With the Stars."
The "Sex and The City" star and his professional partner had the judges swooning from the start of competition on Monday after tackling a graceful waltz that British judge Len Goodman commended.
VIEW THE PHOTOS: Gilles Marini: From 'Sex & The City' To 'Dancing' Superstar
"I'm giving you a sitting down standing ovation," he said as the pair took home 30 points.
But later, their second dance of the evening – a super-sexy salsa — had judge Carrie Ann Inaba on her feet.
VIEW THE PHOTOS: Shawn Johnson- From Olympic Gold To 'Dancing' Darling
"That was Gilles Marini at his best. That is a dance you can bring to the finals," she screamed as they took home another perfect 30, for a total score of 60. "I want to see you here next week."
Olympic gymnast Shawn Johnson and her ballroom partner, Mark Ballas, also came out strong, scoring 30 points on their first dance – an Argentine tango, which Carrie Ann said was full of "passion." But, the couple's second dance, the jive, fell short of expectations.
"It kind of got a little heavier," Carrie Ann said of the number, which saw Shawn and Mark jumping on different beats during the opening. "It felt like it was going through mud."
VIEW THE PHOTOS: 'Dancing With The Stars': The Portrait Shots!
The dance cost them four points, leaving Shawn and Mark with a 26, and a total after two rounds of competition of 56.
Melissa Rycroft and her partner, Tony Dovolani, came in third, scoring 28 for their quickstep and 27 for their cha cha, for a total of 55 out of 60.
Ty Murray and Chelsie Hightower placed fourth on the leaderboard taking home 26 for their Viennese waltz and 23 for their samba for a total of 49 out of 60.
Related Content from AccessHollywood.com:
PLAY IT NOW: Melissa Rycroft: 'Dancing's' Comeback Kid!
PLAY IT NOW: 'Dancing's' Gilles Heats Up The Kitchen (May 4, 2009)

MORE ACCESS ON THESE TOPICS: Dancing With the Stars - Shawn Johnson - Gilles Marini - Melissa Rycroft

Copyright NBCAH - Access Hollywood