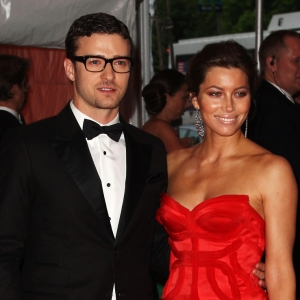 Justin Timberlake revealed a special present for all the moms right before Mother's Day – his love.
Timberlake reteamed with his "D**k In The Box" sidekick, Andy Samberg, for the duo's latest "Saturday Night Live" Digital Short – "Motherlover."
VIEW THE PHOTOS: Hollywood's Hottest Couples!
After realizing they've forgotten Mother's Day, the two try to decide what to do for a last-minute gift.
"I'm a motherlover, you're a motherlover," they rap. "We should f*** each other's mothers."
VIEW THE PHOTOS: Justin Timberlake: From The Stage To The Red Carpet!
And while Justin was putting the moves on Susan Sarandon in the expletive-laden skit, which also featured actress Patricia Clarkson, it was just fine with his current girlfriend Jessica Biel.
"It was so wrong, it's right. Just so wrong, it had to be right," Jessica told MTV News over the weekend.
Although she knew about the skit ahead of time, Jessica didn't see the finished product until the skit aired for all to see.
"I had an idea what it was going to be like, but I didn't see anything until the actual dress rehearsal where they have an audience and everything," she added. "So, it was also a surprise to me."
But Jessica, who spoke to MTV while promoting her new film, "Easy Virtue," wasn't just a spectator as her man hosted the show for a third time – she also hopped in front of the camera to introduce Ciara, while Justin played keyboard and provided backup vocals on the "SNL" stage.
It was the second time Jessica has appeared on "SNL" this season. In March, she made a surprise appearance on "Weekend Update" dressed as Jessica Rabbit – a segment which also featured Justin.
Overall, Jessica thought Justin's comedic chops as a "Motherlover," a Target shopper, a giant breast implant and even one of Justin's future-predicting ancestors were all fantastic.
"He was incredible," she added. "He just killed it."
Related Content from AccessHollywood.com:
PLAY IT NOW: Access Exclusive: Jessica Biel Strips Down For 'Powder Blue'
PLAY IT NOW: Access Archives: Jessica Biel Talks '7th Heaven' (1996)

MORE ACCESS ON THESE TOPICS: Justin Timberlake - News - Jessica Biel - Saturday Night Live - Late Night

Copyright NBCAH - Access Hollywood