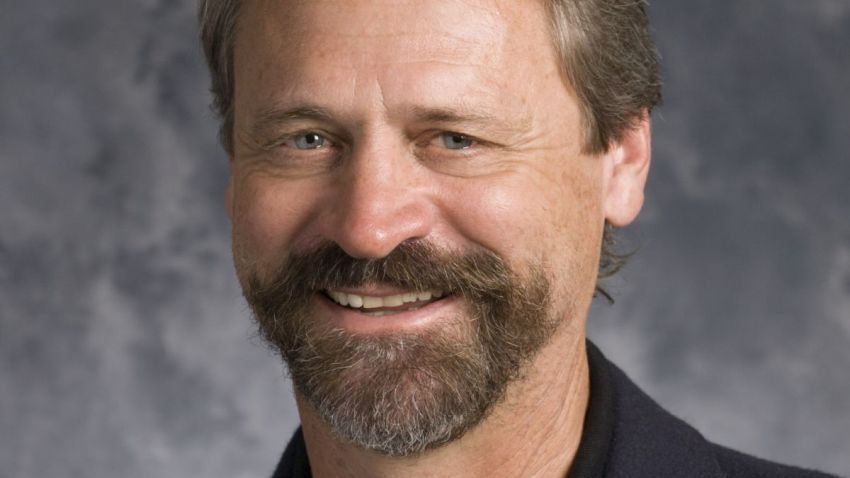 ATHENS, Ga.— A University of Georgia professor who police suspect in the fatal shootings of his ex-wife and two men outside a theater near campus Saturday disappeared in his Jeep after dropping his children off with a neighbor, authorities said.

A nationwide manhunt was on for 57-year-old George Zinkhan, whom neighbors and others described as a quiet, introverted and well-respected marketing professor at the university in Athens.

Members of a local theater group had gathered midday at the Athens Community Theater when Zinkhan left his children in his car and fired at the group, said Athens-Clarke County Police Capt. Clarence Holeman. Killed were Zinkhan's ex-wife Marie Bruce, 47, Tom Tanner, 40, and Ben Teague, 63, Holeman said. Two others were injured by flying shrapnel.

SWAT members swarmed Zinkhan's neighborhood about seven miles from campus and authorities searched his university office but came up empty. It didn't appear he had used his credit cards or ATM card, police said.

"We're doing everything we can to shut him down," Holeman said. "I believe he will turn up somewhere, somehow."

Zinkhan has been a professor in the Terry College of Business and had no disciplinary problems, university spokesman Pete Konenkamp said. He has taught at the school since the 1990s.

"His track record is impeccable as far as his teaching credentials," Konenkamp said. "He's a respected professor on campus."

The three victims were all involved with the Town & Gown Players Inc., a group that had planned an evening performance of "Sherlock Holmes: The Final Adventure" at the theater. The show was canceled after the shooting.

Tanner was set to be Dr. John Watson in the play, and Teague described himself as "a confirmed theater bum" for the local group on a Web site that bears his name. Bruce, a family law attorney her friends described as a well-respected, had for years volunteered as a set designer and director for the group.

Zinkhan had argued with at least one of the victims prior to the shooting, Holeman said. After walking away, he returned with the guns and opened fire. Police said they received a call about 12:25 p.m.

Zinkhan then drove his young son and daughter to a next-door neighbor's home in Bogart and dropped them off, only saying he needed them to watch them for about an hour because of an emergency.

Neighbor Robert Covington said when he asked Zinkhan's daughter, who is about 10 years old, about the emergency "all she would relate to me was there was something about a firecracker." The children were with police, and Covington said his neighborhood for awhile was "police central." Covington described Zinkhan and Bruce as still living together in the house.

Athens-Clarke County Coroner Sonny Wilson said the three victims were shot multiple times. Two different guns were involved, and neither was recovered at the scene, nor at Zinkhan's two-story colonial in the tidy middle-class suburb of Athens, Holeman said.

Authorities issued a nationwide alert for Zinkhan and his 2005 red Jeep Liberty. Zinkhan also has a house in Amsterdam, Netherlands, and authorities were keeping a lookout at airports. Also, police in Austin, Texas, have been alerted since Zinkhan has family there.

"Anyone who shoots three people is dangerous, that's the best way I can put it," Holeman said.

Shortly after the shooting, the university issued a campus-wide alert as a precaution.

"Our first thoughts are for safety of the university community and for prompt apprehension of the person responsible," university President Michael F. Adams said in a statement.

Zinkhan was quiet and introverted, Covington said, but he never suspected something like the shootings.

"It's a pretty huge shock," Covington said.

Dana Adams, who lives across the street, said police looking for Zinkhan had hidden in her backyard. She didn't know the professor that well, but described him as "kind of a strange character," who would sometimes walk off in the middle of a conversation. "But I would never suspect this."

Bruce, his ex-wife, loved the theater and recently directed a production of "Trip to Bountiful," said Wesley Cook who knew Bruce through the theater company, where Cook's girlfriend performs.

"She was very lively and charming and was an integral part of that theater community," Clark said.

Bruce graduated from the University of Georgia's law school and specialized in family law. She moved to Athens in 1980 from Augusta, where she performed in school and church shows, according to a 2002 profile of her in the Athens Banner-Herald. She taught high school and college before law school.

Athens attorney Ed Tolley said he and Bruce worked on cases together and knew her well.

"She was a wonderful person," Tolley said, "Red-headed, very attractive, very professional, and a wonderful mother."

He said when he heard one of the victims was a lawyer whose husband was a professor, he feared it was Bruce.

"My heart breaks for the children," he said.

Teague wrote on his site: "For over 17 years I've spent most of my weekends (and a lot of evenings) working with a community theater company here in Athens."

Teague, who was married to a longtime University of Georgia professor, also said he had worked providing German to English translation services to business, industry, government and the law since 1972. He said he grew up in East Tennessee and lived in Texas for several years and moved to Athens in 1977.

Before joining the faculty at the University of Georgia, Zinkhan held academic positions at the universities of Houston and Pittsburgh. He has a doctorate from the University of Michigan and graduated from Swarthmore College in Pennsylvania in 1974.

Tom Reichert, a professor at the University of Georgia Grady College of Journalism and Mass Communication, knew Zinkhan from around the campus.

"This is a total shock," Reichert said. "I wouldn't say he was particularly vivacious or particularly quiet. He was right down the middle."

Copyright AP - Associated Press