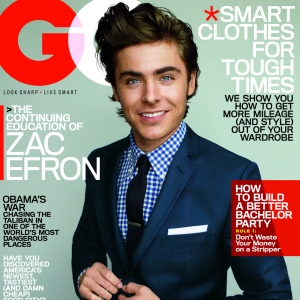 Zac Efron may be making the leap from teen-dream to grown-up movie star with this weekend's release of "17 Again," but don't expect him to cut loose any time soon.
The 21-year-old star told GQ's May 2009 issue that although he enjoys having alcohol in private with pals, he has no plans to put his partying on parade.
VIEW THE PHOTOS: The Latest Star Sightings
"It's common sense. If you're gonna be drunk with your friends, don't get wasted at the Chateau Marmont and hook up with some famous chick," he told the mag. "It's not rocket science."
"I don't want to be famous for my personality," Zac continued. "If anything, I keep that under wraps."
While Zac keeps his private life private, he opened up, just a little, about his romantic life, if only to shoot down rumors he and girlfriend Vanessa Hudgens have marriage on the mind.
"That was such bulls***," he said of recent nuptial rumors. "I'm definitely not getting married. In this business, you're either getting married or they want you to be pregnant. I'm not getting married until I'm 40. If ever. The thought never crossed my mind.
"Maybe not 40. Maybe not until I'm 30," he quickly corrected himself.
VIEW THE PHOTOS: 'High School Musical' Stars
In the meantime, Zac is content to be an acting star, something he said he didn't expect when he was younger.
"That was the one thing I wasn't prepared for. This wasn't supposed to work, y'know?" he noted. "There's 150 guys that are just like me, except more talented, and they probably deserve to be out here. It's a fluke."
And maybe because Zac considers his success "a fluke," he's sought out advice from his elder peers, like 34-year-old Leonardo DiCaprio.
"I thought I was gonna ask him questions," Zac said of their meeting. "He ended up asking me questions, and in that, he told me a lot. He said, 'There's one way that you can really f*** this all up. Just do heroin. If you steer clear of that — the other obstacles you'll be able to navigate.' And that makes sense, dude."
Related Content from AccessHollywood.com:
PLAY IT NOW: Dish Of Salt: Zac Efron & Thomas Lennon Talk '17 Again'
PLAY IT NOW: ShoWest 2009: Zac Efron To Join 'Pirates Of The Caribbean'?

MORE ACCESS ON THESE TOPICS: Zac Efron - Leonardo DiCaprio - Guy Candy - Young Hollywood - Celebrities

Copyright NBCAH - Access Hollywood