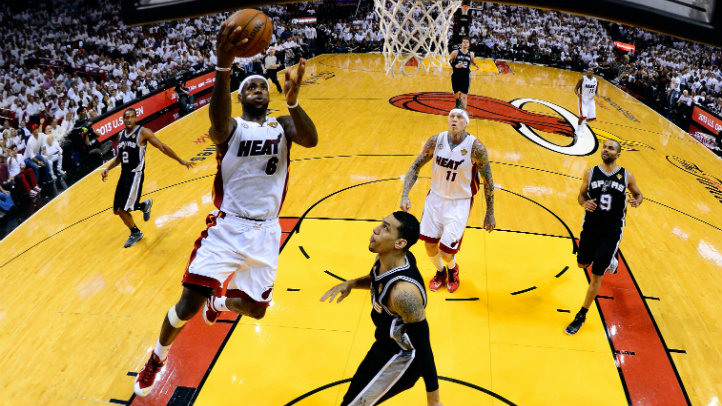 For the second time in three seasons, the Miami Heat face an elimination game in the NBA Finals at home. Miami was on the losing end in 2011, when the Dallas Mavericks finished off a reeling Heat squad in the sixth game of the NBA Finals. In tomorrow's Game 6, Miami will try to avoid a repeat.
"We're going to see if we're a better team than we were our first year together," reigning MVP LeBron James said Monday.
San Antonio took a 3-2 series lead with their 114-104 win Sunday night. They can clinch their fifth title in five trips to the Finals since 1999.
Ticket Prices Heating Up for NBA Finals Games in Miami
"I'm sure this team, they've been here before many times," said Heat guard Dwyane Wade. "They understand winning that last game is one of the hardest things you're going to do. And we understand it as well," Wade said.
This is the second time this postseason Miami is facing an elimination game. They came out on top in Game 7 of the Eastern Conference Finals against the Indiana Pacers, but even with a win Tuesday, Miami will still need to win Thursday if they want to repeat as NBA champions.
"We're in a position where it's a must-win and everything that we've done all year comes to this point, and we have to win," Heat guard Ray Allen said. "We've found ourselves in so many situations this year, and we've thrived in tough moments because this is a tough team. We will be ready for Game 6."
The biggest question ahead of Game 6 is whether Heat coach Erik Spoelstra will make any significant lineup adjustments to counter the Spurs' potent offense. Before Game 4, Spoelstra moved Mike Miller into the starting lineup ahead of Udonis Haslem, favoring a smaller lineup that proved successful.
That success lasted just one game, though. Spurs coach Gregg Popovich responded with a lineup tweak of his own, inserting Manu Ginobili into the starting lineup for Game 5. Though he had not started all season, the veteran responded with a 24-point, 10-assist outburst.
Regardless of the lineup Spoelstra trots out, the Heat will need more from LeBron James, who struggled mightily in the second half of Game 5 (shooting 2 of 11 and missing 5 shots from withing 5 feet of the rim).
Pinecrest Names Street After Miami Heat
"I have to come up big, for sure in Game 6," James said. "But I believe we all have to play at a high level in order to keep the series going. So me being one of the leaders of this team, I do put a lot of pressure on myself to force a Game 7, and I look forward to the challenge."
The biggest test of all for Miami will be slowing San Antonio's potent three-point shooting. Danny Green has set a new Finals record with 25 three-pointers in the series, while Gary Neal has hit 12 coming off the bench.
Still, the defending champs remain confident, as always.
"We've been through so many battles," Spoelstra said. "And we've been through everything. The trust level is there now. We've been through enough losses, we've been through enough pain, been through success that we're able to manage each other much better than initially the first few weeks together."
Game 6 tips off at 9pm ET in Miami, with coverage on ABC.
Copyright AP - Associated Press