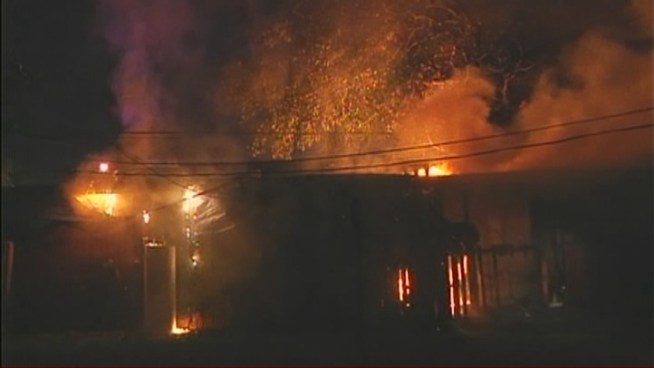 Firefighters work to control a fire at Paradise Flowers and Plants in Northeast Miami-Dade.
Part of Biscayne Boulevard in Northeast Miami-Dade was shut down for nearly four hours Thursday morning as fire officials investigated a fire at a flower shop.
Miami-Dade Fire Rescue responded to Paradise Flowers and Plants in the 11300 block of Biscayne Boulevard around 3:30 a.m. to find it engulfed in flames with heavy smoke billowing out of the roof and sides.
Firefighters immediately went to work but were unable to get inside because of the smoke, Miami-Dade Fire Rescue Lt. Stanley Stark said.
"So it took about an hour to finally get this under control," he said. "And then we had some hot spots here and there that we had to stop before it would go on to some of the trailer parks nearby."
The fire was so bad and the building's wood frame was so old that at one point firefighters feared it would collapse on them, Stark said.
"Fortunately, no one was hurt," he said.
Stark said they found gas canisters near the flower shop, leading them to believe somebody started the fire intentionally.
The stretch of Biscayne Boulevard reopened around 7 a.m., just as rush hour began.
The fire is still being investigated.
Woman Killed in House Fire in Northwest Miami-Dade