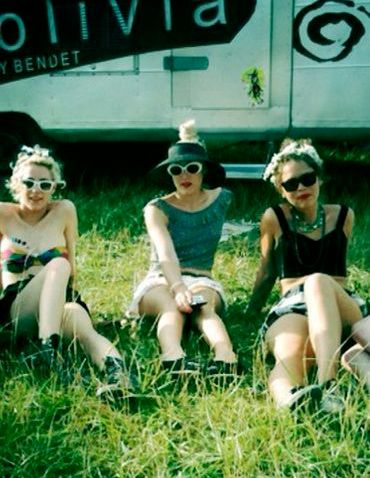 Cleo is one of three in a girl group on a mission to make the world over, one community at a time.
"There's a lot of crying. It's really emotional really inspirational," said Diggy, the tour photograpther.
Tour stylist Cleo, along with, Diggy and NYC Improv actress Mollie make up the Alice + Olivia road team. The accessorized trio is traveling the country in a clunky, funky '70s vintage Airstream, along with trunks of summer and fall fashions from the A + O line, created by Stacey "Stacey Pants" Bendet. Last night they debuted A + O fashions at LIV nightclub in MIami Beach.
"We're sort of like this fashion rock band," said Bendet who joins the group at cerain locations throughout the tour.
Not only is the group boosting Bendet's creations in communities that may not carry Alice + Olivia, but the ladies are also doing good and leaving their mark along the way.
After a 15 hour drive from Alabama, Cleo, Molly and Diggy arrived at the Kristi House, an organization in Miami that helps women who are victims of abuse, and made over five contest winners.
"We had a girl turn to us and say for the first time her life she felt like a girl," said Cleo.
For Bendet, who employs over 80 women, empowerment is what it is all about.
"It's kind of like this girl power trip," said Bendet.

The "fashion rock band" left after a weekend of trunk shows and makeovers, but not before their routine dance party. Here in Miami, the Kristi House counselers were exclusively invited.
"They are superwomen," said Bendet. "They are actual superheroes."