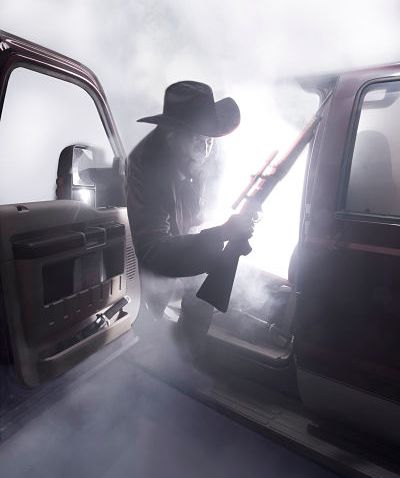 The last time Niteside caught up with David Josef Tamargo, the great urban hunter had just tracked and captured Miami's legendary giant sloth. Since then he's gone national, and the accolades (and notoriety) have compounded accordingly. For Art Basel, Tamargo took over Wynwood's Product/81 Gallery. So we swung in for an update.

What beasts have you hunted since capturing Florida's legendary giant sloth? Shortly after the epic Miami Sloth hunt, I made my way to New York City and Los Angeles for the Wall Street Bull and Chinese Theater Dragon Guardians (respectively). I've been back to both cities many times since and just got back last month with the Columbus Circle Elephant and 'Patience' & 'Fortitude', the beloved lions at the NYC library.

Any of the aforementioned prove to be more than the usually unusual challenge? The NYC hunts were especially interesting, the Bull and elephant hunts garnered the attention of New York City's finest who initially threatened to arrest me. They weren't familiar with Urban Hunting or sure why I was standing atop the behemoths wielding swords and shotguns, but after a quick explanation we became fast friends. One of the officers actually attended my opening for "Artists on the Prowl" at the Dino Eli Gallery in November.

I imagine you've fully chronicled that harrowing expedition? I've documented the new stuff and there's a lot more work yet to be seen in the series. You can view most of it and follow my expeditions as I update my website regularly.

Speaking of chronicling, your new solo show recounts some urban hunting highlights -- care to fill us in? My new solo show "The Urban Hunter" at the Product/81 Gallery in Wynwood chronicles adventures in some unusual Miami locations. I'm not hunting the typical roadside landmarks in plain sight; these images depict the ephemeral hunt of not so obvious prey. They are an assemblage of places and animals that I imagine would roam in the wilds of Miami when the city sleeps - they are all inspired images from a would-be Urban Hunting film.

Isn't Product/81 the space that's fronted with the legend "Yo <3 305"? Yep, Product/81 is the notorious space run by Alex Fernandez-Casais and Bibi LouLou, two new players right in the heart of Wynwood who are bringing amazing opportunities for local artists.

Name game aside, it is one of the most supportive spaces in town, isn't it? Indeed, Product/81 is one of the most supportive spaces in South Florida! They're 'powered by South Florida FORD,' which means they put their money where their mouth is. When they asked me to be their next 'Fordista' artist I thought about the expenses of printing and framing, but the next thing they said to me was they'd take care of everything. The gallery really went out of their way to help me create the work I had no means to do otherwise. The work on the walls are stills and weapons that will be used for an Urban Hunting film that is now in production thanks to them.

Didn't they also enable you to add even more elements for Basel? The gallery also enabled me to create some new elements for Urban Hunting like the first ever sculptures and ephemera that chronicles series and my hunts ever since the beginning.

Your Urban Hunter isn't the only thing you've got goin' down in December, is it? No, on December 10 I've got the Wynwood King Mango Strut. I've been actively participating in with one of the original Strut organizers, Glenn Terry. It will be similar to the Grove parade but tailored to the Wynwood Art Walk vibe. It's a mix of performance art and political satire, a lot like the Grove parade that Glenn started in 1982 but with a greater emphasis on art. It'll all start at the Food Truck lot at 5pm then parades over to Wynwood Walls for a big party.

Anything else coming up we should know about? There's an exhibition of 20 something erotic Rembrandt etchings at the World Erotic Art Museum where I art direct, you should check it out. Be sure to ask for me and I'll let you know what they're all about.