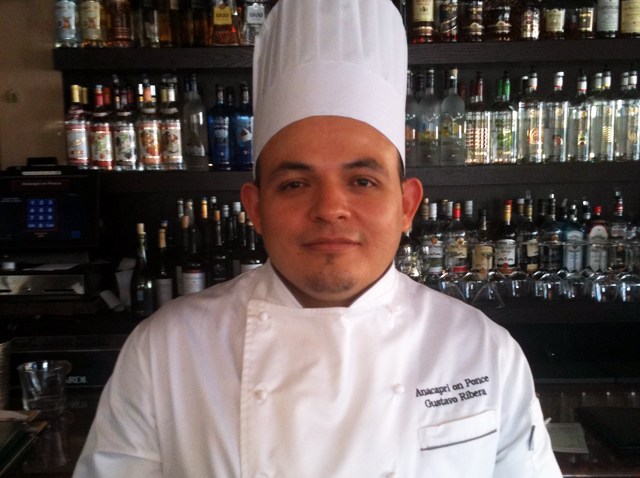 Bolivian-born Gustavo Ribero, 33, moved to Miami at age 14 and began working in the restaurant industry. He left for college with the dream of becoming a doctor, then realized cooking was his passion. Following his calling, he attended Johnson & Wales, scored a gig at Marriott hotels, and went on to help open Bizcaya at the Ritz-Carlton in Coconut Grove. A few years later, he joined his brother-in-law, Giuseppe, owner of Anacapri in Coral Gables, as chef.
I'm sure all the dishes on each of your menus are like your children, but if you had to choose only one dish from the menu, which ones are you most proud of?
Our A'Malafemmina. It is among our most popular dishes and is perfect for seafood lovers. The dish fuses the Italian culture with the abundance of seafood in Miami.

Most popular item on the menu?
Our Fiocchi. These are pear- and ricotta-stuffed pasta that look like a little purses topped with a creamy Gorgonzola sauce. The sweetness of the pear and sharpness of Gorgonzola both beautifully contrast and compliment each other.
How would you describe Miami's dining scene?
Multicultural. There's a little bit of everything here, which gives our locals plenty to choose from. And there is also many interpretations of each cuisine. The one thing, for sure, is that our dining scene is far from boring.
The secret to cooking perfect pasta?
This may be textbook, but it is still a rule: do not overcook the pasta. Cook the pasta in rapidly boiling water and take it out when it is al dente – firm, but not hard.
At what point did you realize you were destined to be a chef?
I've been in the kitchen since I was 14 years old, but at that age and up to age 20, I dreamed of being a doctor. And then one day while in college, I realized cooking was my passion. My mom was a great cook, and it was also part of the family business, so naturally this was a part of me. I just hadn't realized this until that point.
The five ingredients every kitchen should have?
Salt, tomato, fresh herbs, cheese, and olive oil.
The 5 utensils every kitchen should have?
A grater, a peeler, a good set of knives, non-stick pans, and a strainer.
First dish you learned to make?
While my mother was away, a stew for my father at 12.
Favorite dish to make at home?
As a chef, you don't spend much time with your family, so you need to enjoy every minute. Cooking at my home needs to be fun. It's an activity we do with the kids to teach them about food and the business, so we make pizza margherita and other variations.
What could you live off of for the rest of your life if you had to?
Pasta, and I'm not even Italian.
What's your favorite aspect of working and cooking for Anacapri?
Anacapri is like home. It is a family business. One of the things I truly enjoy is that this is not the typical Italian restaurant. If you come in and don't see what you want on the menu, I will cook something special for you.