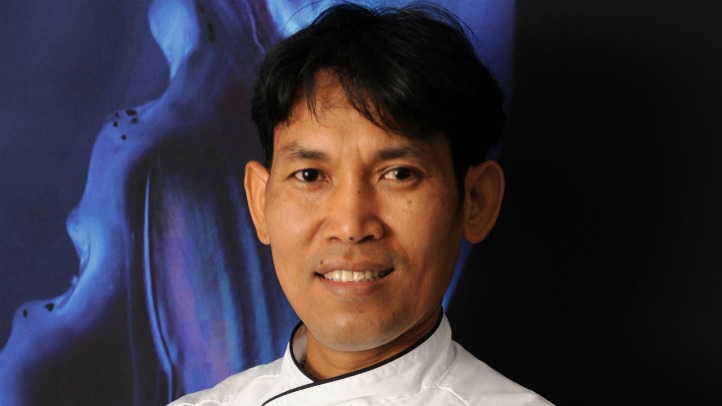 As a little boy exploring Thailand's street food markets, Subin Chenkorsorn has been exposed to many flavors, traditions and cooking techniques from a young age. Craving to learn more about cuisine and cooking, he traveled throughout Southeast Asia and the Caribbean. He's worked the kitchens both here and abroad, working at the Loews Hotel and the Delano right here on South Beach, as well as aboard the Royal Caribbean and Thailand. Now, he runs his own kitchen as executive chef at SAIA in Fort Lauderdale. He talks here of his restaurant, his contemporary menu, and what reminds him of home. Normal 0
I'm sure all the dishes on each of your menus are like your children, but if you had to choose only one dish from the menu, which ones are you most proud of?
All the dishes are like my children, yes, but the one I probably love the most is the Thai Curry Lobster. Curry is the first dish my mother taught me to make so it reminds me of home.
Most popular item on the menu?

From the raw menu, the most popular items are the Fire Dragon Roll & the Tamari Scallops. The Tamari Scallop in very unique - it's a fresh scallop and minced crab meat wrapped in paper thin bigeye tuna with massago and aioli. It's one of our favorite dishes to serve because guests are always surprised by the flavor. For the sharing plates, our guests love the Miso Scallops & the Mongolian Barbeque Lamb Lollipops

How would you describe Miami's dining scene?

In three simple words: passionate, talented and tropical.

The secret to cooking perfect pasta?

The cooking pot must be big enough for the pasta to have room to move within the water.
- 2 tsp. salt & vegetable oil, boil water to high temperate
- stir the pasta when cooking
- follow time to cook on the package -- never over cook it!
At what point did you realize you were destined to be a chef?

I think the passion & spirit of cooking has always been in me
The 5 ingredients every kitchen should have?

Salt, pepper, oil, protein and vegetable - at least for each dish!
The 5 utensils every kitchen should have?

Knife, pot, pan, stove, and cutting board.

First dish you learned to make?

Thai Red Curry - from my mother when I was just a boy in elementary school

Favorite dish to make at home?
Stir Fry with Thai Hot Basil [Phad Kapraw]

What's your favorite food to eat? In other words, what could you live off of for the rest of your life if you had to?
I always have to say Thai food is my favorite food but I also love Italian & Peruvian
Tell us a little more about your restaurant.
At SAIA we focus on Southeast Asian food and fresh creative sushi rolls - all with a local tropical twist. One of my favorite things about working at SAIA is cooking in our open air kitchen.
If there's one tip or piece of advice you could give to all aspiring chefs out there, what would it be?
Put your heart in every dish you prepare. It's as simple as that.