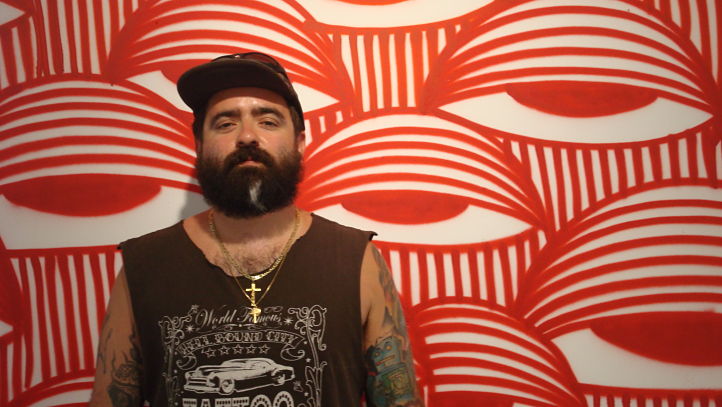 Anyone needing indisputable proof that Miami is cursed with some of the worst drivers on Earth need look no further than the recent downings of two of our town's finest artists. First there was Monica Travis, who was brought face to face with the Boulevard; then came Alouishous San Gomma, better known as Ahol Sniffs Glue, who was plowed into by a driver lacking even the decency to stick around. In response to that day (and to help offset what will surely be one big hospital bill), Ahol shows with Hit&Run, which opens at Gregg Shienbaum this Thursday.
Have they caught the woman who hit you and then ran? No, not yet.
Do they know who it is? I know what she looks like, but I can't get into details because it's still an open investigation. MPD detectives are on it.
Your scooter was mangled, but how are you doing physically? I'm doing okay considering I'm missing a muscle in my leg and I can't stay on my feet for more than 20 minutes at a time. The docs say it'll heal, but it could take several months.
How'd the Shienbaum show come about? Robert De Los Rios approached Gregg on my behalf a couple weeks after the accident, and he was eager to help out. In fact, not only did Shienbaum give me the next open slot, but he's allowing me to keep 100 percent of the proceeds, which is virtually unheard of these days.
What will you be showing? Some of my new work, as well as some of my older work – and it all falls under the concept of spontaneity, which fits the theme of Hit & Run.
Will your trashed scooter be included? Yep, it's part of the show – and it's for sale too!
Ahol Sniffs Glue's Hit&Run opens Thursday, August 9 at 7 p.m. at the Gregg Shienbaum Gallery. For more information log on here.