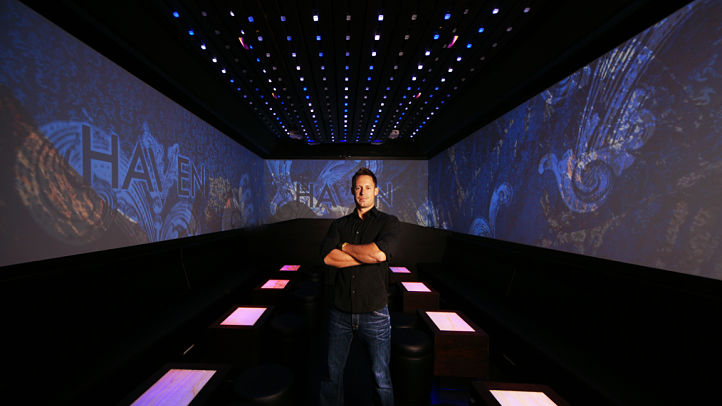 August isn't known as the dog days for nothing. It's beyond hot, and stupidly humid. And unless you think warm, wet blankets come in handy when the heat index hits triple digits, even the rain can't provide any respite. Thank Zeus for hotspots though, for those are our only refuge when we need to truly get cool. Among the hottest of such spots is South Beach's HaVen, an ultra-vivid wine, dine and dance joint on the friendly end of Lincoln Road. Niteside got GM Ben Arndt to fill us in on the venue's month of heat-beating cool.
How long has HaVen been rockin' South Beach now? We opened our doors to South Florida's beautiful locals 15 months ago. Can't believe I'm saying that looking back now. Seems like a six week blur!
Who are the primaries behind the joint? Mike Boles dreamed up HaVen, designed the high-tech elements and warm finishes, and then put together the team to get it done which includes partners Niloy Thakkar and Shaun Weinstock. Each of us have an Atlanta connection. Executive Chef Todd Erickson hails from Dallas, so the warmth of southern hospitality and comfort foods is familiar to all of us.
Has anyone ever walked through the door and failed to say "Wow!"? I definitely field tons of compliments for Mike's design and our ambiance. It can be sensory overload when you step into HaVen's 110 feet of digital walls run by 23 projectors and brilliant LED lit bars and tables. I've never had someone say, "This reminds me of this place I went to in..." It's always, Wow! This is is so different than anything I've seen. How do you do this?" However, the warm, beautiful smiles out front usually offset the chills you might get when entering a panoramic environment of a snowy New York, the Himalayas, or the South Orkney Islands. And the 27 tons of air conditioning keep you cool even when there are volcanoes, flames, and beaches all around you. HaVen has more technology per square foot than any place I've ever seen or heard of.
What's on tap to wow folks in August? We have weekly themed nights to create a particular vibe, showcase local artists and DJs, and to give guests a new experience at 10PM seven days a week. Wednesday is "Miss V" which is a dinner party event where we treat ladies to free Remy V mixology cocktails from 11PM-3AM while Andres Amadeus spins the dirtiest, sexiest underground house music through nearly 40 speakers and subs. No commercial tracks on this night and room for you to dance dirty.
On Thursdays Andrews Lorenzana and Rafael De Onate present "Alphabet City" (celebrating One Year on the 16th). You know those guys as the ones who gave Miami the Spider Pussy party, which has migrated to educated venues for over ten years. Their party at HaVen is all about fresh Lower East Side Manhattan Nu-Disco and Indie Electronica. Those two guys -- also known as DJs AL B Rotten and Johnny Strokes -- are as cool as anyone on the beach.
How 'bout on Friday and Saturdays? Fridays are called "Rock Me!" and Gunars simply kills folks with a new open format set each week. I've never met anyone who can dig into the crates of six or more genres in one night like he can. He might play house or hip-hop all night if the crowd is feeling it, but regardless we rock out. We're also calling Attorney Michael Grieco out of DJ retirement on the 17th for a night that deserves its own camera crew and will raise money for the Miami Children's Hospital. I hear the guy taught Automatic Slims how to rock back in the day, but that's before my time.
Saturdays DJ Kristian Caro is joined by live violinist Dave Brooks and Drum Master John Akins to deliver "Destination Saturdays". It's a smooth flight complete with digital first class cabins, a few stewardess announcements, and always a safe landing in the bottom of a liquid nitrogen cocktail. Soul, house, and open format hits keep the crowd dancing late. Saturdays usually end up with the lights down low and the bass on blast.
HaVen's weekend doesn't end there though, does it? No. It doesn't. On Sundays Rod Pratt presents "for artists...BY ARTISTS", where we feature one or more artists of some type on our walls. Miguel Paredes, Luciana Scarabello, Kiki San Martin, and Carlos Navarro are just a few of the notable artists who have hosted the 7PM-11PM party. This month we're showcasing Mauricio Ferrazza of MIA Animation with support from Miami's Independent Thinkers (5th); hosting photographer Jose Alexzander's book launch for Visual Motivation (12th); presenting Howard Austin Feld's latest work "The Untitled Green Project" (19th), and on the 26th Mitchell Zachs will feature 10 years of photos from the biggest events in Miami. Ricardo Agudelo curates the images into digital murals and colorizes the room to match, and DJ George Vidal spins a mix of incredibly smooth, soulful, and energetic house which is perfect for the laid back vibe. After midnight things pick up into a full on dance party.
And the rest of the week's action? Obi Tawil aka DJ Damaged Goods has been hosting Good Mondays at HaVen since last October. It's hip hop and old school jams with some other hard hitting beats here and there. Double Cross Vodka partnered with us on the night so their drinks are only $7 and we have brought in guest DJs Talib Kweli, Pase Rock, and others from Obi's friends at The Overthrow. We're launching a monthly movie night on the 27th with a popcorn machine and plenty of laughs. It has become a good group of service industry characters cutting loose after a long weekend of slinging drinks, plates, beats, and lights.
Tuesdays legendary DJ Mark Leventhal spins the '80s Double Bubble Party with Jenga and Connect Four face-offs everywhere. Can't lie, I've lost the last six games of Jenga I've played. Two-for-one champagne for ladies all night and wild '80s video walls like Pacman and Atari classics. Last month we had the Three Loco crew of Andy Milonakis, Simon Rex, and Riff Raff in with Wilmer Valderrama. Sometimes you gotta get down to Prince and Flock of Seagulls...
Doesn't HaVen also have a rather robust food component? I'm glad you mentioned that since we are an award-winning restaurant before all the energy and noise takes over. Chef Todd was also voted Miami's Hottest Chef on Eater and went on to whoop some less hot chef from Boston. His global small plates span sushi, skewers, sliders, and crudo categories, and each plate gives you the same "Wow!" that you get when you enter HaVen. The liquid nitrogen ice creams are out of control with custom flavors like Cheetos, Maple Syrup with Bacon and Waffles, and Cayenne Hot Chocolate. Flavors, textures, and local ingredients have never had it so good. The kitchen is open until 6PM-1AM every night for some of the best food I've had down here!
HaVen is located at 1237 Lincoln Road South Beach.