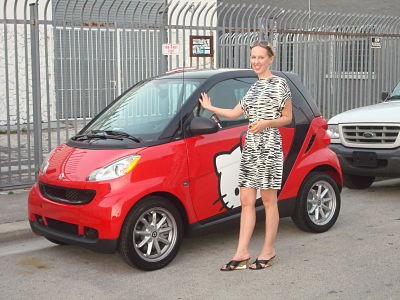 The folks at Sanrio are continuing their 50th Anniversary celebration in an 8,000-square-foot space in Wynwood outfitted front-to-back and floor-to-ceiling with all of the company's beloved characters, including The Vaudeville Duo, Winky Pinky, The Runabouts and, of course, Hello Kitty. The event's called Small Gift Miami, and it runs from Thursday through Sunday. PR firm Charm School's Angelique Groh gave Niteside the details.

When did the nationwide pop-up store tour begin? Everything started on October 23rd in San Francisco.
What other cities have Hello Kitty and the gang popped-up in? Portland, Seattle. Vegas, Tempe, Austin... it goes on.

Wow! Have you gone to this extent in each spot? Oh, no. It's a truck wrapped in Sanrio characters and a trailer that pops-up into a shop. Miami is a much more extensive undertaking. Though you can find that pop-up shop around town too -- right now it's outside of Scope Art Fair.

How'd you get involved with all this craziness anyway? I got involved through my friend Jamie Rivadeneira, who runs a store called Japan LA. She curated Hello Kitty's 35th Anniversary last year.

Do you collect the stuff? I have some of it. But it's amazing how much product there actually is out there.

How many of those products will be available at Small Gift Miami? There are 50 different products, but multiples of most. Plus there are new features, such as the Sanrio Sweet Counter, which will be selling Hello Kitty/ Sanrio candy.

We should also mention the rather extensive art exhibition. Yes, that's all curated by Roger Gastman and Zio Fulcher of R. Rock Enterprises, and it includes works by Shepard Fairey, Niagara, Mark Mothersbaugh, Richard Colman, Mike Shinoda and Seonna Hong.

I noticed a few Hello Kitty Smart Cars making their way around town too. Aren't they cool? There are four of them, I think. I'm driving one. Would you like to take a ride?

I thought you'd never ask!