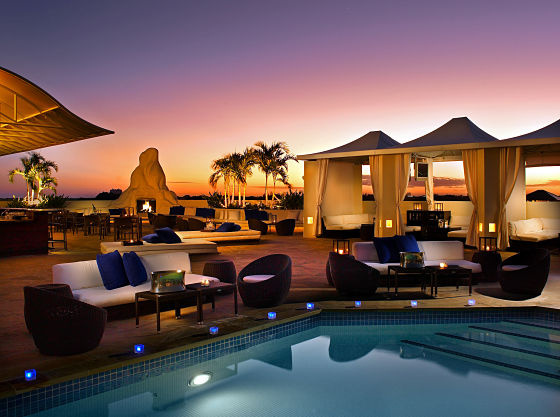 In all the chatter about South Beach, Brickell and Wynwood, Miamians too often forget we've another, equally storied 'hood in our midst, and its best stories pre-date all of the aforementioned -- by decades. Yes, we mean Coconut Grove, which is undergoing something of a renaissance. Leading the way is the Mayfair Hotel & Spa, which has one of the swingingest (and sightliest) happy hours in town. Niteside got with Edwin Mendez, the inn's Food & Beverage man, to find out how (and why).

Wanna tell us a quick bit about the Mayfair? The Mayfair Hotel & Spa is an iconic hotel in the heart of Coconut Grove, it is a full service urban resort. The Mayfair offers oversize unique suites with balconies and japaneza soaking tubs, Spartico Trattoria, Rooftop Pool and Cabana Lounge, Jurlique Spa and fantastic indoor and outdoor space for corporate meetings and weddings or social celebrations.

Wasn't the inn recently renovated? Actually, we are currently going through a soft renovation to be completed by the end of second quarter.

Didn't you also (kinda) recently bring in a big name to help create a rather swingin' eatery? We opened Spartico on December 2010 and the esteemed Jonathan Eismann was hired as a consulting chef to create the concept and menu.

What goes down up on the rooftop? Everything you could ask for -- and then some. We have 100% focus on pampering our guest during the weekdays, and we also offer this gorgeous venue for wedding and private events, as well as different promotions throughout the year.

Doesn't that action amp up some on Fridays? Yes, we have a happening event featuring DJ Ethics, who's been instrumental to the development and the success of the Friday's happy hour. We are very excited about having Ethics with us.

All in all, this isn't at all like the Mayfair of old, is it? The Mayfair changes with the times and we make sure our guests all treated to exceed their expectations while still offering the charm and elegance of the Mayfair while adding new trends and updated amenities.

Mayfair Hotel & Spa is located at 3000 Florida Ave in Coconut Grove. For more information about the inn and its happy hour log on here.